Total DOC Converter Overview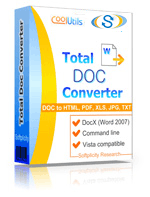 Total DOC Converter is a flexible and powerful doc converter that provides you with a great ability to convert any doc file to another file format. It is an easy-to-use, high-quality and extremely fast program. You will be surprized how simple it is to convert documents!
With Total DOC Converter, your conversion efforts are restricted to browsing the list and selecting doc files. The program does the rest.
Program features
Converting several DOC files into one PDF or TIFF file;
Processing DOC files in a batch mode;
Working via Command line;
Using right-click option;
Converting properties of a document (author, creator, key words, subject, title) to PDF;
Defining the output font name, font size and font style (bold, underline, italic, strike out);
Using WordWrap option;
Setting the default destination path;
Working in Windows 95/98/NT/ME/2000/XP/Vista/7/8;
Converting DOC files on web-servers or services using the X version of Total DOC Converter;
Converting all new DOC files automatically with the help of Total Folder Monitor;
Converting documents (Word, Doc, DocX, DocM, RTF, RVF, or TXT files) to HTML, PDF, RTF, XLS, JPG, TIFF, and text.
Top
Next