Total Image Converter: On-Line Help
How to convert an image to other formats?
Learn how to convert image to other file types (TIFF, JPEG, BMP, PNG, ICO, GIF, TGA, PXM and others). This step-by step tutorial with screenshots will help you.
More
---
How to crop a photo?
Cropping means removing unneccasary borders of an image. You crop an image when you cut some parts off. That's what you need to create an astonishing avatar out of your photo.
More
---
How to resize photos for emailing?
Modern digital cameras produce high quality photos. Each photo is about 2 Mb in size. Even with a large email box you won't be able to send a bunch of photos. Learn the simple way to reduce the photo size retaining good visual quality.
More
---
How to apply text or logos to my images?
Total Image Converter adds any kinds of watermarks: text with effects, logos, images, anything you like. Watermarks prevent images from being stolen from your web site. Or just write a few words to your beloved one:)
More..
---
How to set my image as a wallpaper?
Have a favourite image? Set it as your wall paper to enjoy it every time you boot your computer. Total Image Converter does that in one click!
More
---
How to rotate my photo?
Do you have a photo rotated right? Don't screw your neck - rotate the image with Total Image Converter. Rotation is done automatically in 3 clicks!
More
---
Featured Product
Total Image Converter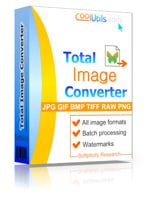 Converts photos - TIFF, JPEG, RAW
Applies watermarks (text or images)
Resizes images in batch
Crops images in 2 clicks
Rotates images with ease
All image formats supported
Easy-to-use