Total Outlook Converter has a variety of options to make a converted email meet your requirements. For example, you can add page counters to your output PDF, DOC, TIFF and JPEG files. This emails converter is very easy to use, and it takes a couple of simple actions to convert files and add page counters.
Run Total Outlook Converter. Select input files in the file tree.
Check the files, which you want to process (Check All button is located below the file list)
Select your target format (PDF, DOC, TIFF, JPEG).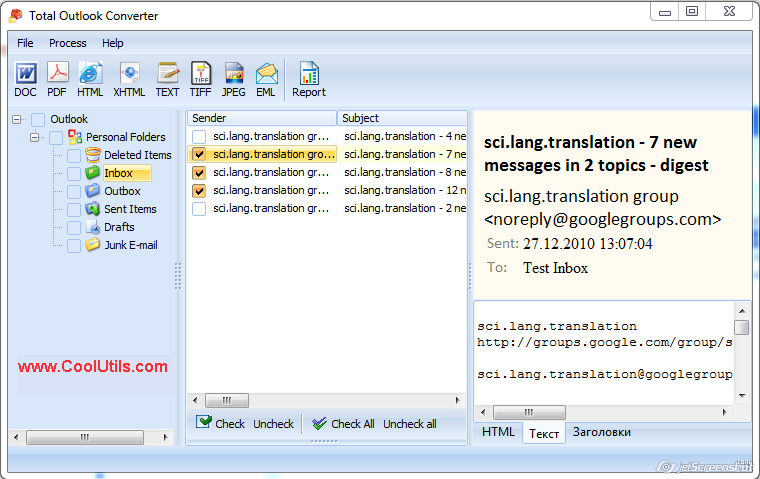 Navigate the wizard and open Header or Footer options. Use the former to set page counters at the top and use the latter to set it at the bottom. Tick the Header/Footer checkbox.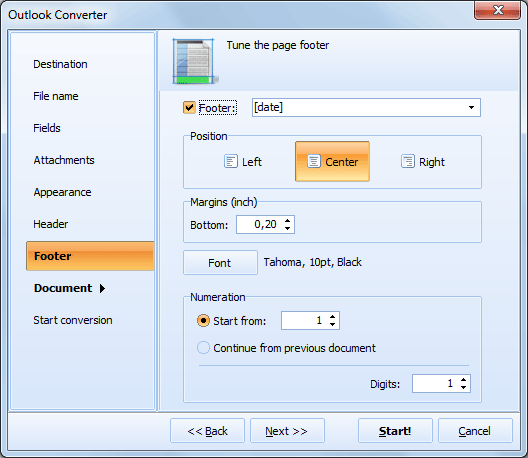 Select the [Page counter] template in the dropdown list.
Now you can choose where you want to locate page counters: in the top/bottom-left corner, in the center of the page, or in the top/bottom-right corner. Apply Margins, so that there will be space between the page counter and the edge of the page.
Choose your preferred Font.
Set the starting number and the number of digits for your counters. If you want your page count to start from page 1, do not change anything and use the default settings. It is also noteworthy that the program can start page count with each folder. If you want it this way, uncheck the Sequential numbering option. If you keep this option checked, the program will continue numeration from the previous document, if any.
More useful topics: