| | | |
| --- | --- | --- |
| Excel Workbooks to HTML | | (only $49.90) |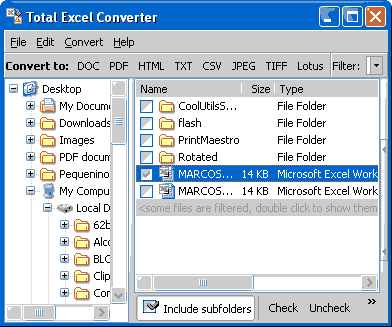 Office routine often includes converting Excel workbooks to other formats. Sometimes you need to upload to the site the workbook and the best format is HTML. So how to convert XLS workbooks to HTML?
The easiest way is to use Total Excel Converter. It works fast and produces accurate results. What's important it does not require any technical knowledge, all steps are very intuitive.
Total Excel Converter works in a batch mode. That means that you can convert a series of XLS workbooks to HTML in few clicks. Just image how much time converting each file separately would take.
Total Excel Converter has advanced options specially for converting Excel workbooks. It can make individual HTML documents for each tab in Excel without creating the navigation strip at the bottom. That's very convenient.
Total Excel Converter can be handled via command line as well as via user-friendly interface. The trial copy is free, download and try. That will prove that Total Excel Converter is the best tool to convert xls workbooks to HTML.