The DWG file format is not a widely used file extension. Professionals like engineers would, however, be knowledgeable of this extension. Although opening these files is typically straightforward, occasionally, there may be some difficulties. The drawing is extracted into DWG. It is a digital format that holds information on both 2D and 3D designs. Fundamentally, DWG is a CAD or Computer-Aided Design. This file format was developed in the 1970s by Autodesk, the company that created AutoCAD. The illustrations are made up of binary-coded metadata and vector picture data. The majority of CAD software, particularly AutoCAD software, employs it as their native format. Today, architects, constructors, and builders utilize DWG extensively for a range of design tasks. There are some methods to view DWG files without an AutoCAD DWG files converter.
If you work in architecture or design, you may often need to view and print CAD files, however, CAD printing can be expensive if you don't have AutoCAD installed on your computer. Fortunately, there are CAD printer tools out there that work very well, without AutoCAD on your computer. Whether you are printing black and white or full color CAD drawings, the tools in this article are excellent alternatives to AutoCAD for CAD printing.
1. CoolUtils Total CAD Printer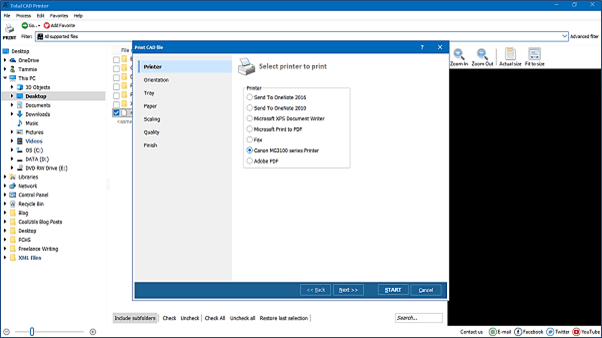 CoolUtils Total CAD Printer (https://www.coolutils.com/TotalCADPrinter) prints several CAD formats including DXF, DWF, DWG, PLT and over ten more file types. Total CAD Printer automates CAD printing in batches so you can easily print an entire folder full of CAD files. You can also select a variety of CAD drawing printers from which to print. Total CAD printer has several additional options, including Fit to Page and paper tray selection. You can select ink quality to save ink and print in segments based on the printing equipment you have available. This is a very solid CAD printer utility that is user-friendly. Free to try.
Features: Works with several formats, prints in batches, multiple printer support, Fit to Page
Works with: Windows 95/98/NT/ME/200/XP/Vista/Windows 7/8/10
2. DWGSee DWG Viewer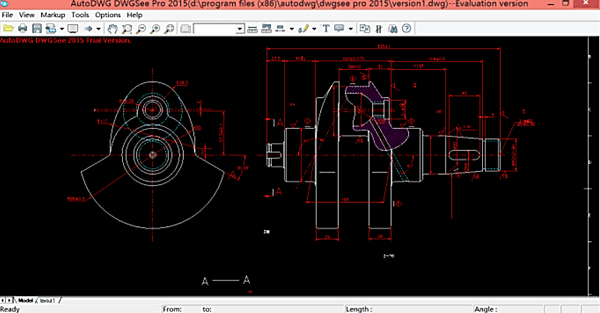 DWGSee DWG Viewer (https://www.autodwg.com/dwg-viewer/) is a kind of printer used to view DWG files. DWG Viewer allows users to print DWG files in batch files for more convenient processing. The downside of this program is it has very few CAD file types it supports (DWG and DXF). The free version of this program allows for CAD printing, but the PRO version has many more features such as publishing markup in PDF and Image files and converting DWG files to image formats such as JPG and GIF. There are both free and PRO versions of this program.
Features: View and print DWG/DXF files, print and batch print DWG files, convert DWG to image files
Works with: Windows XP/Vista/Window 7/8/10
3. Autodesk Viewer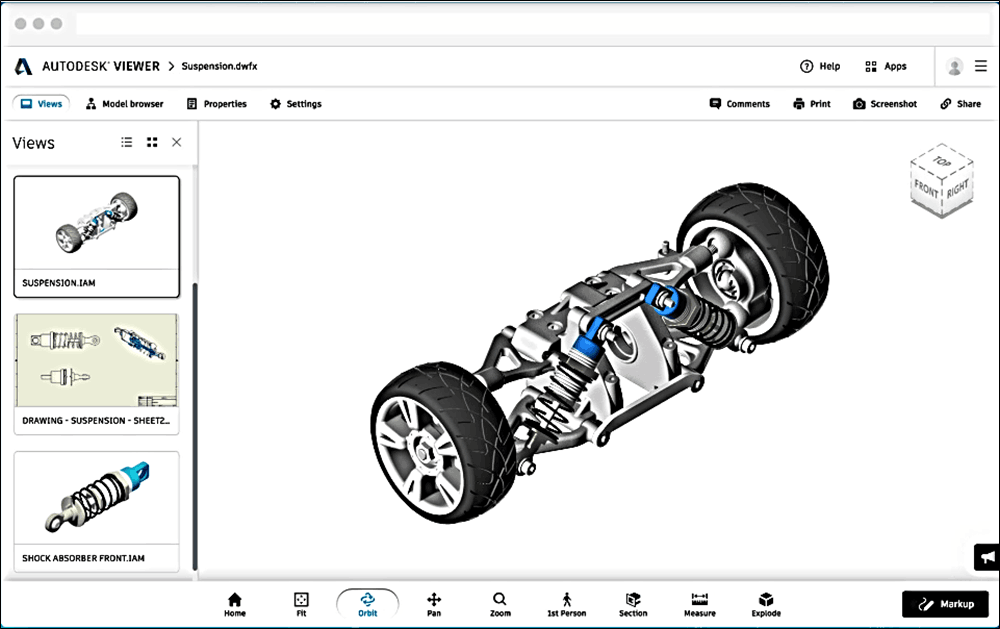 Autodesk Viewer is an online option for those who don't want to install software to print or view CAD drawings. Autodesk is a CAD drawing printer and viewer that allows you to print 2D and 3D CAD drawings and supports DWG, STEP, RVT, and Solidworks formats. This is a very basic tool, but does allow you to print views of CAD files. This is a good tool if you are looking to just view, share and print AutoCAD files, however, that's about where the functionality ends. This tool is free to use and works with your browser, so it works across all platforms.
Features: Share, screenshot, print CAD files, free to use
Works with: Linux, Mac, Windows
4. Cad Soft Tools ABViewer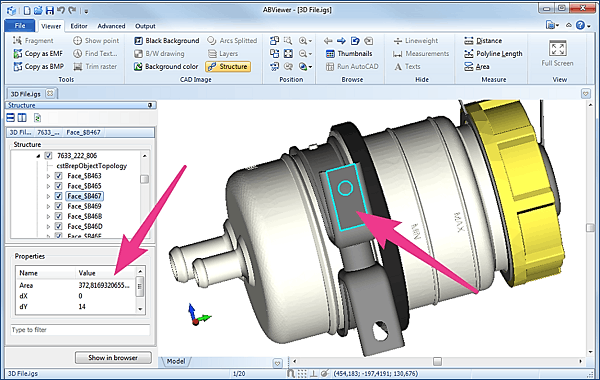 ABViewer (https://cadsofttools.com/products/abviewer/) is a CAD print viewer that allows a user to view, convert, measure, edit, and print CAD files. Supported file types include DWG, DXF, DWF, HPGL, IGES, STEP, PDF and raster and vector image formats. ABViewer also allows for batch and multi-page printing. This is a good overall tool for CAD files, however, since this is not strictly meant to print CAD files, CAD print features are limited compared to other CAD printing tools. Free to try.
Features: View/print many CAD and image formats, batch conversion, export files
Works with: Windows 2000/XP/Vista/7/8/10, Windows Server, Linux
Tip: You can also convert CAD files to more popular PDF or TIFF files for easy sharing or printing. Try Total CAD Converter for that.
How to View a DWG File Without Autocad: More Tools
The exclusive Scan2CAD conversion software the primary function of which is to convert picture files to DWG (and DXF), but it also includes a tonne of other features. Scan2CAD's comprehensive image-editing package not only lets you see DWGs and DXFs but also enables you to edit them.
Compared to other offline conversion programs like Anydwg or Autodwg, Scan2CAD stands out in particular. This is due to the fact that its graphical user interface (GUI) has a workspace that constantly shows the.dwg drawing. Scan2CAD has an advantage over its rivals because it acts as the converting tool in the foreground. In contrast, other software applications let you upload the .dwg file and don't let you examine or change the drawing file.
You can also use DWG Trueview software which is considered free desktop software. It offers us to measure, review, view, and share 3D and 2D files. This tool can be utilized to convert DWG files. It only supports .dxf and .dwg file types. This software is available only for Windows.
Another method entails utilizing online or offline conversions to convert the .dwg file to a PDF format. In any case, this is a respectable, though indirect, way to view DWG files. Most programs do not allow you to preview or view .dwg drawings. While some converters are entirely free, the majority of them cost money. As opposed to letting you preview the drawing, they just allow you to upload the file and then click the "convert" button.
In addition to the potential for your files' security and privacy to be compromised, you'll commonly encounter that these converters have very little functionality. Also, some of the data in your file can be lost during the conversion, and the converted files cannot be updated. You can also lose quality if the converter turns your vector graphics into raster pixel-based files; the closer you look, the more fragmented the image will be. And it's also effortless to use. Find the DWG file in Windows Explorer, right-click, and choose the option stating "Convert to Adobe PDF."
Autodesk drive comes with software, which is free to access for customers who have already licensed one of Autodesk's products, to facilitate collaboration. You can view the design files from any technology and location because the content is stored in the system. You may view, store, and share pdf, .dwg, .dxf, Microsoft Office files, .rvt, and more with the help of this solution.
You can also try other compatible software like the Autocad web app and Autodesk software to open Autocad drawings. Autocad mobile can also be used, but a subscription is required.