So, it is 2018 and most of your friends and colleagues use Outlook and you have decided to save money by using a free email client – smart! But how do you communicate with Outlook users and open MSG files without Outlook? It turns out there is a plethora of great tools out there that will allow you to read msg files without using Outlook!
What is an MSG file? An MSG file is a common email file format used by Microsoft Outlook. You can use other desktop email clients to open MSG files or use one of the many tools available without having to use an email client.
We've researched 7 free tools that work great to view MSG files enabling you the freedom to choose any mail client you wish to use and still view Outlook MSG files. Check out our selections for tools to view MSG files.

1. CoolUtils Mail Viewer
https://www.coolutils.com/MailViewer
CoolUtils offers an Outlook MSG viewer that allows you to view MSG and EML messages with attachments from anywhere. You can copy, move and delete selected emails (one or multiple) using CoolUtils Mail Viewer. If you want to save your emails as common EML files, it will help you too. This tool is unique in that it offers you the option of generating an email summary file which can be exported into several file formats, including TXT, PDF, XLS, CSV, and HTML. The summary will show you how many files you have, their senders, subjects, etc. CoolUtils Mail Viewer is definitely worth a try and is one of the better programs for viewing MSG files without Outlook; it is totally free for home users.


2. MailsDaddy
https://www.mailsdaddy.com/free-msg-viewer/
MailsDaddy is a free MSG viewer for Outlook that also has a PRO version. MailsDaddy has several email tools, however, MSG Viewer is separate from their other products. MailsDaddy has a robust search feature so you can easily search and find MSG files to open. You can also load MSG files with a single click making this a very convenient tool. As with the other Outlook MSG viewer tools, you can search and view attachments as well.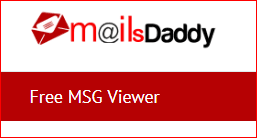 3. FreeViewer
https://www.freeviewer.org/msg/
FreeViewer is an Outlook MSG viewer much like SysTools Viewer in its look and feel. FreeViewer allows you to view MSG Outlook files as well as browse and analyze files. FreeViewer also allows you to read MSG file metadata for forensics purposes. FreeViewer has a simple Windows File Explorer interface and is simple to use with a three-step process to view Outlook MSG files. FreeViewer is a great tool for viewing MSG files without Outlook.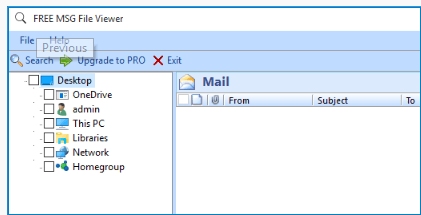 4. Turgs
https://turgs.com/msg/
Turgs is an Outlook MSG viewer that allows you to view MSG files without Outlook and read MSG emails and attachment files. Turgs allows you to choose to open a single MSG file or open a batch of MSG files in the same folder all at once. The one downside to this tool is the freeware version is a demo. Turgs also lacks the File Explorer-like interface of the other MSG file viewer tools.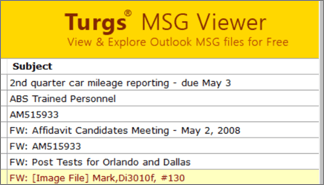 5. SysTools
https://www.systoolsgroup.com/msg-viewer.html
SysTools MSG Viewer is an Outlook MSG viewer that allows you to open and view MSG files along with their attachments. The robust search features allow you to search within both MSG files and attachments to save you time. The Windows Explorer interface style is familiar and makes this program user-friendly, even if you aren't an expert in email file types. There are a freeware version and a Pro version, which has several additional features such as exporting MSG files to PDF.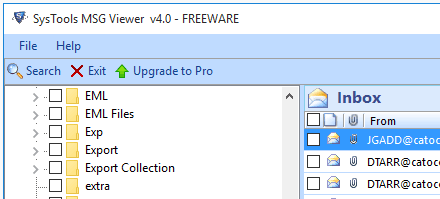 6. Zamzar
https://www.zamzar.com/convert/msg-to-pdf/
Zamzar is very different than the other tools in this article for viewing MSG files without Outlook. Zamzar is an online tool that allows you to upload an MSG file and convert it to a PDF file for safekeeping and/or reading later. While it?€™s very easy to upload and convert your MSG files in four easy steps, you will need to give up your email address to receive the end product. While this site is convenient for quickly converting an Outlook MSG file to PDF, it doesn't have the search, analyze, and print features the other Outlook MSG viewer tools have.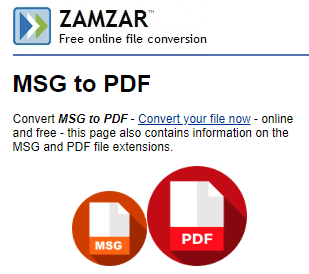 7. Softaken MSG to EML Converter

Softaken's MSG to EML Converter allows you to view MSG files without Outlook on a Windows or Mac machine, which makes this converter and viewer stand apart from the others if you are a Mac user. This program allows you to open MSG files without Outlook and convert them to EML or EMLX files. The user interface leaves a bit to be desired, however, it is easy to use. MSG to EML Converter also allows you to convert multiple and large files.

With tools like this around, you will never have to pay for Outlook to view MSG files. While most of these tools only offer evaluation versions, we suggest you download some of them and give them a try.