Can you combine multiple PDFs into one? If you have Acrobat, the answer is simple. You can click on the tools menu and select combine files, merely adding the files you want by clicking, dragging and dropping. You can even reorder the files into a particular order. The killer comes when you realize that Adobe Reader, the free version of Acrobat, does not allow you to create or edit PDFs. So, what if you haven't bought this relatively expensive software? It is still possible to combine multiple PDF files into one without Acrobat.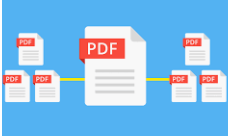 Do You Ever Think of Combining PDF Files Without Acrobat?
It is not that hard to combine PDFs without Acrobat. Multiple files can be fused while using PDF without Acrobat. On the internet, various software programs are always accessible to assist us in troubling circumstances of our daily lives. You can take the help of these applications that are readily available. But what you need to remember is that assurance of benefits from this software package is required.
Another aspect you must ensure is that it has to support various source files. If you are facing complications, look for a new app to overcome your issues. Because standard technologies and software applications are upgrading themselves with time and each software operating system has its specific advantages to use. For example, some software will support many source files, and some may not.
Why are people so much fond of Adobe Acrobat Reader rather than other software applications to merge existing PDF documents with new PDF files?
For additional PDF files, you often think that if your gadget has an Adobe Acrobat reader, you can easily merge new PDF files with existing PDF documents. Various software applications have different methods to do this, but in particular, if you want to use Adobe Acrobat Reader, you need to click on the tools that its menu provides. Then you have to go to the option to select the combined files; then add your chosen files; after this step, you can drag or drop them.
What Can Be an Alternative Solution to Merge Multiple PDF Files Without Acrobat?
For collaborating on multiple pdf documents, the first word that may strike your mind is Acrobat. We all know it will be easier, but if we don't want to utilize it, there are many software applications to solve your problem. In Acrobat, you can add your files by dragging and dropping them. And you will get several options for PDF reordering. But the trouble occurs when you realize that Adobe Reader's free version of Acrobat will not allow you to generate or edit PDFs. So, you have to search for a better application.
The easiest way to find another good application rather than Adobe Acrobat Reader is to do detailed research. There are plenty of free pdf applications that would have almost the same functions as Adobe software. While talking about a solution, one thing you need to keep in mind is not to choose any application in a rush. It may be harmful to your data, as we all know. Think twice before using any unknown application because the software will not be as helpful as you think, so reassurance must be your top priority.
Though you can get plenty of software options for merging PDFs, a better recommendation is to find an open-source program that will be able to run on various kinds of operating systems. You will also find the option to merge PDF files, which is the best alternative solution for PDF files without Acrobat.
Find an alternative PDF software
A quick search on the internet should reveal a host of free PDF applications that have similar functions to Adobe products. It is best to read reviews, as the software can be glitchy and we wouldn't want to recommend them for use. However, if you search for PDFsam, which is an open-source program that works on all operating systems, then you can have the function to merge PDF files.
If you want to combine multiple png files into one PDF, then PDF Fill PDF Tools is a top option. This is a rudimentary program, but it does allow you to merge files, as well as reorder pages. It can allow you to merge files from multiple formats at once. If you are working in a law firm, looking to combine materials for submission, then nothing could be easier than this.
No Download Required
You might not want to clutter your server or your hard drive with random programs. As an alternative to downloads, there are some useful SaaS PDF programs available too. This would be best for those who have a one-off activity, maybe archiving the files of a relative or friend who may have passed, for instance.
Where to Find Online Tools for PDF Mergers?
You have the authority to incorporate multiple files in one PDF without using any software since online tools are also obtainable. They are more manageable and straightforward to use than any software or application. You only need to upload all the files to the website, then go and click the Merge option. After that, you'll get your pdf combined.
You can combine multiple files into one PDF without Acrobat using online service software sites such as PDF Joiner or I love PDF. They are so simple to use. You merely upload multiple files to the site and then click Merge or similar word, and you should then be sent a link to find your combined PDF document.
But when you want your files hidden or do not seek to disclose your private data, these sites won't be safe for you. If you want to protect data from others, then online software is not a perfect tool because for making a pdf, you have to provide this data to third parties.
If you're working somewhere and you need to make a pdf of companies' private data, and somehow your data gets leaked, your office will indeed find out who's behind it, so you will have to face termination afterward. You can read the terms and conditions of the site to find a security policy. This policy informs you whether they immediately delete the files or not. Such sites may claim that they delete everything after one hour, but it will be a risk factor. So, it would be a suggestion not to make PDF documents online with the help of a PDF merger.
However, if you are dealing with client data from any sector, it is best to download software like PDF Combine Pro from Coolutils and work from your hard drive rather than upload material to a third party. The advantage of this app is that it supports many source files. You may easily combine DOC, PDF, TIFF, JPEG, and XLS into one multi-page PDF. With it, you can save your pdf without any hassle.
How Can You Combine Multiple Files?
Using other supplementary applications, you can combine multiple files. In one PDF, you can select multiple files according to your demand, but you need to be careful about what application or software you are choosing.
Summary
It is easy to combine multiple files into one PDF without Acrobat. There is no need to buy expensive software. If you are a mac user, you don't even need an open-source software or SaaS. You can merge the files in Apple Preview. You may benefit from the many other functions of Acrobat; however, this simple action of merging files can easily be achieved in free PDF software