Converting CAD files to PDF is a complex process and takes the right Autocad PDF converter to effectively convert CAD drawings to PDF. If you are an architect, construction developer, or engineer, you use CAD drawings on a daily basis and need a convenient way to share your work with your clients.
You can simply print a CAD drawing to PDF, however, that is an inefficient method if you have more than one CAD file or wish to do some customization on the file, such as combining several CAD files into one PDF or encrypting your files for safety.
A program such as Total CAD Converter works quickly and easily, converting autocad to PDF and many other file formats, along with other useful features that have many benefits over simply printing, including saving several autocad drawings as one PDF. You can also convert several Autocad files into individual PDFs all at once.

Converting Multiple CAD Files to PDF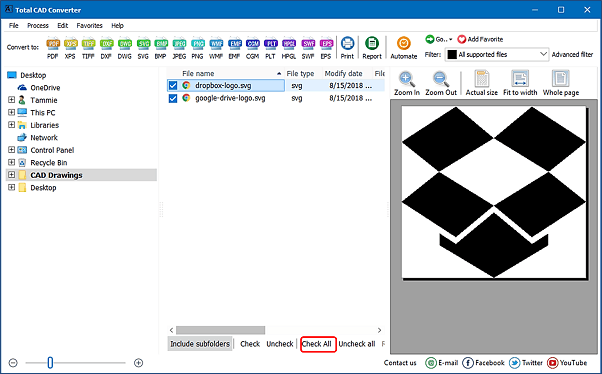 The biggest benefit of Total CAD Converter is you can convert Autocad files to PDF in multiples. Simply locate your CAD folder and click the Select All button to select all CAD files to convert to PDF. When you use the print CAD to PDF method, you can only convert one document at a time, costing you many hours of your time.
Organizing Your Files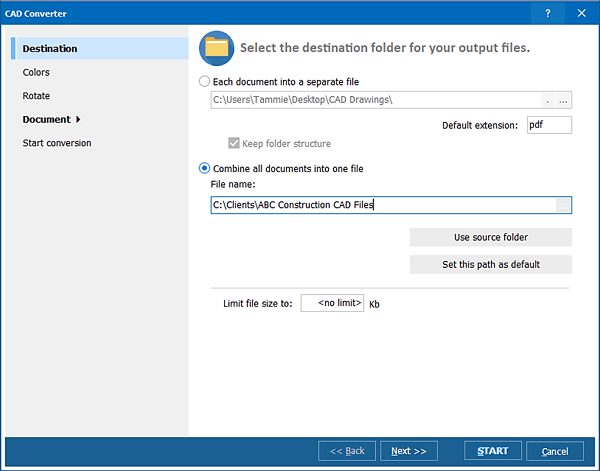 Total CAD Converter also allows you to organize your files when you convert CAD drawings to PDF. You can either combine each document into its own separate file or combine all documents into one file, such as your client's name and the date, keeping all similar CAD drawings in one file.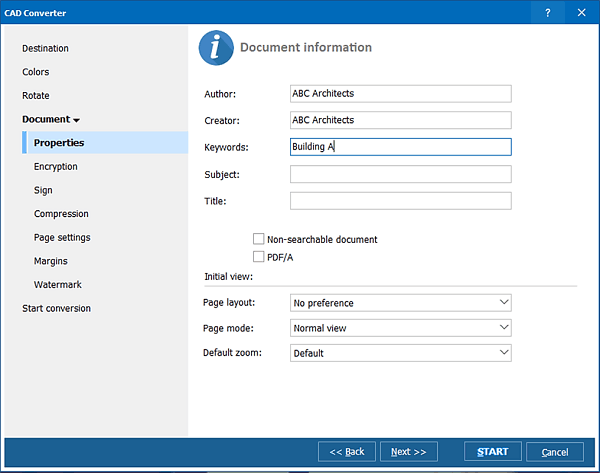 You can also include keywords for searching your files later. If, for example, you convert 100 Autocad drawings to PDF and you need to search for specific building drawings within those files, you can include the building name within the metadata. You can also organize by subject and title to further refine any searches.
Securing Your Document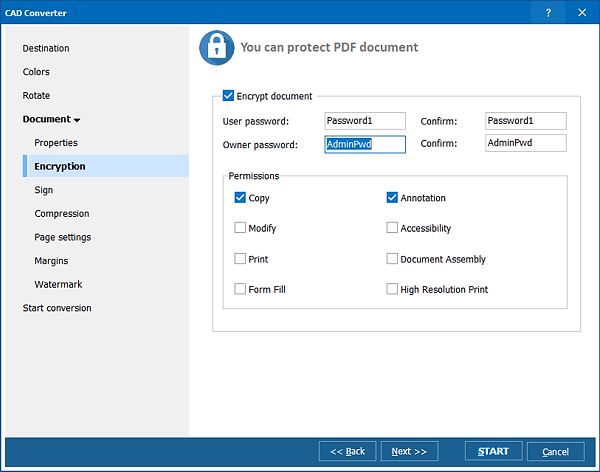 When you convert an Autocad drawing to PDF using the printing method, you simply get your drawing printed out into a PDF formatted file. With Total CAD Converter, you have several other options that allow you to customize your file, such as adding encryption. During the process to convert a CAD file to PDF, you can encrypt the file with a user ID and password and even select permissions available for the file. Allow viewing and printing, but forbid editing, for example.
Choosing a CAD converter over simply printing to PDF gives you many more benefits and saves you hours of time, depending on how many files you have. Check out Total CAD Converter (https://www.coolutils.com/TotalCADConverter) and see how it can save you time and money.