Neat Excel Reports To Analyze Hundreds Of Emails
We wanted to highlight a little-known feature of our Total Outlook Converter Pro that could be the answer to many of your recording and analysing needs. Companies and organisations receive a lot of information by email, attachments, embedded elements, but also the necessary information included in the metadata. If you work in research, or you work in the law, collating such information is essential to the successful delivery of your responsibilities.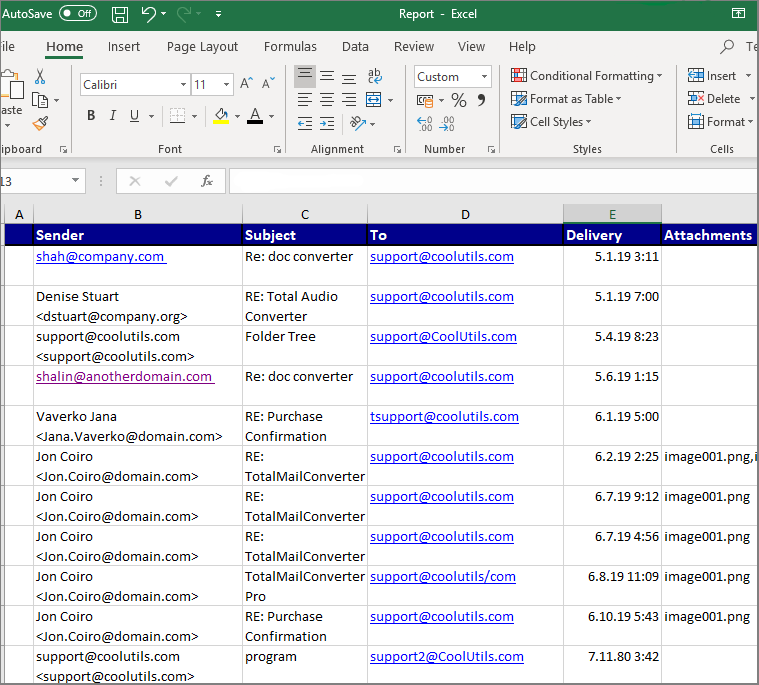 Gathering the information manually, in an excel document, for instance, is time-consuming and frustrating. There is potential for inaccurate transcription of information or the erroneous filing of vital information. If you work in law, this would be a disaster, but it is equally problematic in many sectors, such as research or forensics.

Your solution is Total Outlook Converter Pro
First, Total Outlook Converter Pro can take your emails and store them in many different formats, DOC, PDF, XLS, and more. This makes the gathering of vital information from your Outlook email account simple and easy. This can be done in batches, saving you time and reducing the chance of error.
However, there is a more important feature for those looking to analyze metadata connected to emails. General information such as date, time, to, from, body information all provides vital information where patterns can be revealed and evidence established. It is one thing gathering this data, which this app does in seconds, but it also produces reports on this data.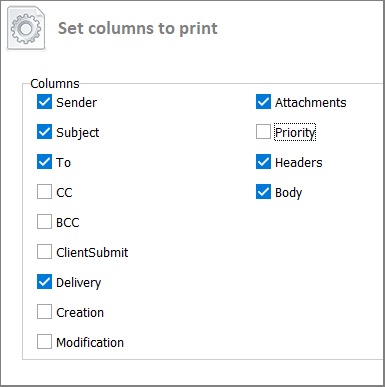 The wonder of the Report function
On the opening screen, you can select all the emails from the account you wish to analyse. You can then click on the Report option in the tools. This is represented by a table icon, to help you find it quickly. Clicking on this icon will take you to a wizard tool. This will guide you to select the details that you want reporting.

The details you can select allow you to dig into the emails for the information that is vital to your investigations. You may only want the recipient and the date of emails, and so you would just check this box. However, you may wish to understand who is copied into emails in relation to what subjects, and again you can select to include this information. To make the most of this tool you just need the questions you need answering and an idea where this answer can be found.
Set the columns you wish to display and then select your destination. This will transfer the date to your desired format, whether it is an excel spreadsheet, a pdf, a word document, or more. You can then store this securely and efficiently, ready for use in a case or when presenting evidence in a report.
In short
Total Outlook Converter Pro is an essential app if you need to gather data from your email account for easy storage and analysis. There is no need for lengthy collation processes. With a few clicks of the mouse, you can convert the data you need and store it effectively for later use.