Lawyers know in today's world of digital communications, email is a valuable resource for cases that need subpoenaed documents. But how do lawyers organize those emails in a way that the subpoenaed evidence is easy to sort and find? Total Mail Converter Pro from CoolUtils converts MSG and EML email formats to PDF. Emails can be converted individually or in batches to make emails searchable to plan your case.
Watch Total Mail Converter Pro Presented by William C. Groh, III from Colorado Bar Association on Vimeo.

How can you convert hundreds of emails at once?
Total Mail Converter Pro allows you to easily convert hundreds or thousands of emails at once using the batch convert feature. You can choose emails you wish to convert individually or choose Check All at the bottom of the screen to convert hundreds of emails at once.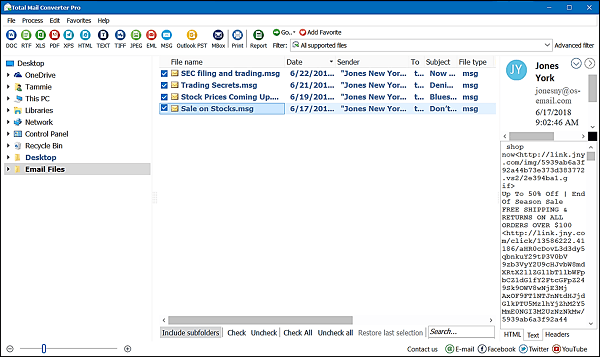 Once you've selected your emails to convert, click the PDF icon and the conversion wizard will walk you through the conversion process.
You can combine emails you choose, for example, by case, into one document and copy the original timestamps of each email. This allows you to organize emails by each case in chronological order for quick reference in court or while reviewing documents.
To pull out subjects in your emails, you can save batches of emails by specific keywords. So, if you have a case involving the SEC and insider trading, you can enter related keywords and Total Mail Converter Pro will save emails with those keywords. To narrow your batch of emails, you can include a date range so you can easily pinpoint specific emails.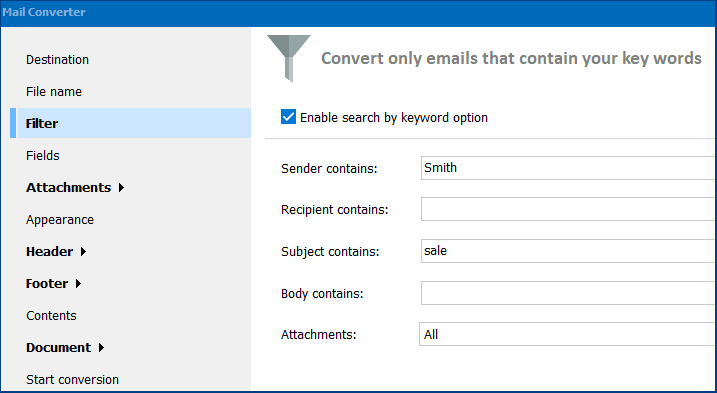 What about evidence in email attachments?
Often times there's evidence not only in email, but also in email attachments. You need to be able to convert emails and attachments that contain information important to your case. Total Mail Converter Pro makes it easy to convert attachments separately or with the converted emails.
You can save attachments in their original file formats or convert attachments with their respective emails. The attachments will be included in the converted document with the emails. You can ignore attachments if they aren't relevant to your case.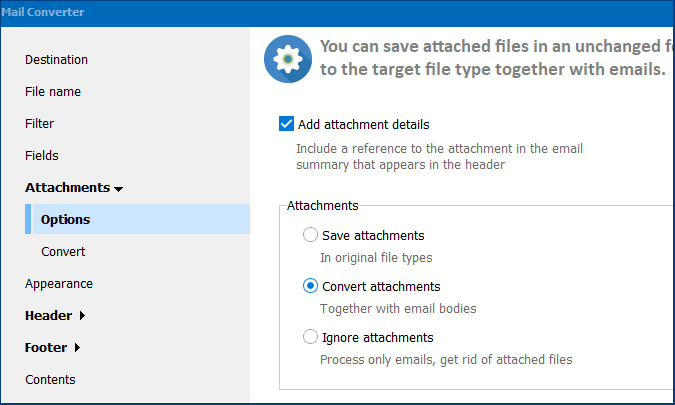 How do you organize emails in chronological order?
Attorneys know the importance of dates in requests for subpoenaed documents. Having a tool that allows you to name files by date and time, to the second, is invaluable for organizing evidentiary files. Total Mail Converter Pro includes several templates to format your file names by dates, senders, subjects, etc. You can create your own naming templates for your needs.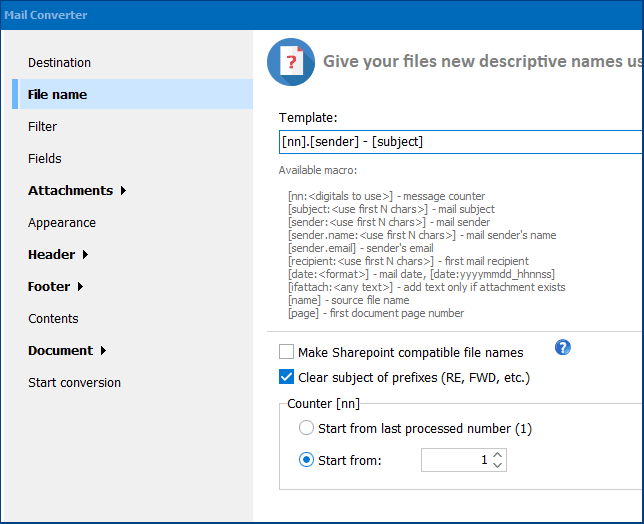 Total Mail Converter Pro is great for law firms, attorneys, legal assistants and anyone who has to process email evidence. Total Mail Converter Pro makes the task of searching and saving emails and attachments quick and easy. Even the novice computer user can easily convert emails using this program.
Have a special requirement? Total Mail Converter Pro is very flexible and you will certainly find a solution to your particular case. Contact us and we will reply the same day.
Key features of Total Mail Converter Pro for e-discovery and litigation:
Name files by year/month/date/hour/minute/second and subject
Convert email in batches saving hours of time
Save emails in chronological order
Saves attachments within the email or separately
Search converted files by keyword