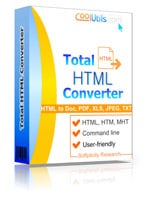 Interface languages: English, Spanish, German, French, Russian, Japanese.
Windows 2000/NT/XP/2003/Vista/7/8

Conversion HTML files into TIFF makes web pages suitable for faxing, documents creating, etc. This graphic format allows compressing files with no loss in quality.

It's possible to convert HTML to TIFF by using several compression algorithms. The choice of algorithm depends on your purposes (compact compression, extended quality, etc.). Also it will be better if there will be ability to render some specific elements of HTML file. This will help to sort out only those elements that you need in future TIFF version.
A proper choice of HTML TIFF converter will save your time and efforts. One of the best products in this area is Total HTML Converter that has all required facilities with any extras. Its interface is clear for non-professionals, and the functionality includes all of necessary options.
Converts several HTML files into one TIFF image.
Supports IE's headers and footers (add date, page count, etc. to each file)
Adds watermarks (any text on any page you need)
Can exclude text, shape, or images from the hfinal document. For example you may want to convert HTML to TIFF and get only images or only text.
Allows selecting type of compression for the output TIFF files.
As you see, Total HTML Converter has a great set of options to create suitable TIFF files from web pages. By selecting Total HTML Converter, you get the product carefully optimized for the user comfort. Get your copy now and make sure in its full correspondence to your needs.