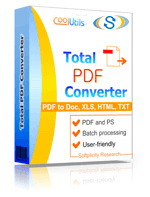 Windows
2000/NT/2003/Vista/7/8/10
Interface Languages
Total PDF Converter converts PDF to DOC, RTF, XLS, HTML, BMP, JPEG, GIF, WMF, EMF, PNG, EPS, PS, TIFF, TXT, CSV, and PDFin batch. If you want to convert a bunch of PDF files without having to waste time reading instruction manuals, then this is converter for you. Unlike other batch PDF converters, the Total PDF Converter is extremely user-friendly due to a well-planned interface. Users can rely on predefined settings or use their own values. Total PDF Converter maintains your original folder structure so that you receive the output files in perfect order. Additionally, registered users gain direct access to command line support to allow for quiet automatic functioning on the back end.
Loaded with options, when you convert files using the PDF converter, you can also:
Convert multi-page PDF files to HTML/DOC/XLS/RTF/CSV/JPEG and more in batch; while placing each page into a separate file.
Add page numbers to your output files starting from any number (e.g. "6,7,8").
Omit unnecessary items by selectively converting text only; zero images. Or the other way around; images only with no text. More unique options..
Total PDF Converter is both powerful and flexible when it comes to performing custom format conversions. With support for over 15 different formats (PDF/PS/EPS/PRN/XPS/OXPS and more) it's neither complex or difficult to use. In fact, we think it's the most user-friendly converter out there! Download a free trial version today and take 30 days to explore the program without any obligation. The 64-bit version is available upon request.
If you need a server version without any GUI or interrupting messages check out the Total PDF Converter X with ActiveX.
Screenshots

Carolyn Gorup
"We had some 2,200 PDF files that needed to be converted to TIFF. The project manager said we would have to rescan the files, go into the back closets, dust off the cabinets, find and pull the files and rescan them, and of course then re-file the reports. With the Total PDF Converter we put a copy of the files into a sub-directory, I went in and selected the subdirectory and 2 hours later the files were converted. Thanks for a great product at a reasonable price."
Complete list of supported conversions
EPS to HTML
EPS to TXT
EPS to Text
EPS to CSV
EPS to BMP
EPS to PCL
EPS to Exe
EPS to XPS
EPS to PS

PRN to WMF
PRN to PCL
PRN to Exe
PRN to XPS
PRN to PS

PCL to Text
PCL to CSV
PCL to BMP
PCL to GIF
PCL to PCL
PCL to PPT
PCL to Exe
PCL to XPS
PCL to PS

OXPS to BMP
OXPS to GIF
OXPS to PNG
OXPS to EMF
OXPS to WMF
OXPS to PCL
OXPS to PPT
OXPS to Exe
OXPS to XPS
OXPS to PS
Unique options of Total PDF Converter
When you need a TIFF copy of your PDF files you do not have to rescan the papers. Total PDF Converter will automatically convert all your folders with PDF files to TIFF images in minutes.
Preview Option Each PDF file is displayed in Preview panel. You can zoom it in/out or view the document full-sized. Preview option makes it easy to find the right PDF file.
You can save your time and effort excluding certain items from your final documents. You can convert a PDF file without images that you do not need. Uncheck Images from the Items To Render list and get the final file with text only.
When you convert PDF to JPEG you can customize the final image to your needs. Set the desired quality of the JPEG image to compromize the file size. Total PDF Converter can also extract the selected pages and convert them to JPEG.
Total PDF Conveter can act as a PDF splitting utility. It can easily extract selected pages from a multi-page PDF document. It can also split a multi-page PDF by bookmarks or by blank pages.
Total PDF Converter supports DPI and paper size for TIFF. This means that users can select the quality and size of the output TIFF images. Besides, the tool can rename .tiff to .tif during a PDF to TIFF conversion.
Articles
Attention!
We are experts in all kinds of PDF conversions. Pick up the right tool:
Customer Reviews
Nat Jameson

April 29, 2014
I am satisfied with Total PDF Converter performance. It is easy to use and it does all my converting at the click of my mouse. With the help of this software I was successful to split my multipage PDF file first and then convert each split file in to EPS format. All is done without a hitch.
Bruce A. Chitieф (SafeSectors, Inc.)

March 14, 2014
I find your Windows product to be excellently conceived and executed. The GUI is very ыtraightforward; controls thoughtfully placed. One does not need a manual to become quickly productive. Performance and quality of results meets or exceeds expectations. Your business pricing is right in the middle of the market, a good place to be.
Antonio

February 16, 2014
I am very pleased with the PDF Converter and I just start using it to discover all the features of it.
Hudson

July 26, 2013
The PDF converter worked all right but for my PCL files. It fails to recognize them as source files.
Kim Leasly

June 10, 2013
I have used PDF Converter for one specific project and it worked perfectly. Have no other suggestions right now, thank you.
Shiraz

May 21, 2013
Thanks for following up with me about my use of your PDF converter. There is 1 particular pdf file that your program is unable to convert to Doc. I have already been in touch with Mary Thorton with your support team, and she is working on my isues. I sent her the pdfs in question. I hope to get a solution soon.
Dominique Froesch

May 15, 2013
Like the product and have used a number of times already saving several hours of work. I do have a request / recommendation. On the 'Select destination' configuration page, it would be nice to have the same ability to use the naming functions for the folder name as what has been made available in the 'File Name Template' configuration.
Tara

May 13, 2013
I found this converter really really helpful. Thank you very much!!! Hope you can offer more free downloads of your converters. Thank you!
What do you think about this program?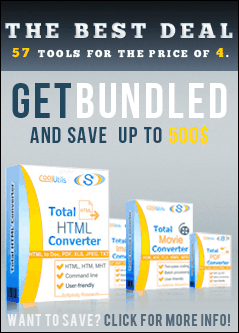 Key Features
Converts PDF to Doc, Excel, HTML, PS or Text
Also converts PS, EPS, PRN, XPS, OXPS files
Batch conversion mode
Converts PostScript to PDF
Can sign output PDF files
No need to use Adobe Acrobat
Supports PDF written in multi-byte Languages
Command line support
Preserves original document layout
Windows 8 compatible