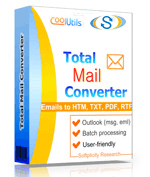 Windows
2000/NT/2003/Vista/7/8/10
Interface Languages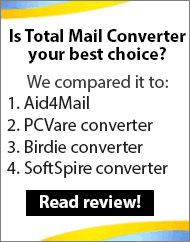 Total Mail Converter helps you manage your emails outside of your email client (Outlook, Thunderbird, and more) in the same way you would work with PDF, DOC or RTF files. Loaded with unique options, the Total Mail Converter lets you:
Convert both MSG and EML to PDF, TXT,HTML, RTF, DOC, TIFF files.

Combine several emails into one multi-page PDF or TIFF file.

Selectively export the email fields of your choosing: Sender, Recipient, Date, Subject, or Body.
Attached files can be extracted and placed into the same or a new folder. If attached files are images they can be inserted into the output document. (To convert attachments to DOC, PDF, TIFF, JPEG, HTML, TXT, check out the Total Mail Converter Pro).
Convert emails via the friendly user interface or directly through the command line. We even offer a server version without the GUI or any messages for silent, behind-the-scenes server operations.
Add headers and footers to the output files (i.e. date, page numbers, etc.) More unique options..
You'll be amazed at how much time you can save with the Total Mail Converter. Give it a try with our free 30 day trial download. Take a first hand look at our award-winning conversion technology and get started organizing your inbox today!
Complete list of supported conversions
EML to Excel
EML to EML
EML to MSG
EML to MBox
EML to XPS

EMLX to XHTML
EMLX to JPEG
EMLX to TIFF
EMLX to Doc
EMLX to RTF
EMLX to Text
EMLX to Excel
EMLX to MSG
EMLX to MBox
EMLX to PST
EMLX to XPS

Email to Excel
Email to EML
Email to MSG
Email to MBox
Email to XPS
Unique options of Total Mail Converter
Total Mail Converter converts emails in batch and adds a new name to each output file by any template you set. Moreover, it can add a counter to the file names.
If you do not want to waste time, Total Mail Converter offers a special option: "do not access internet for images". So if the email contains some links to images, the program will skip them.
When you convert emails with attached images, those images can be embedded into the output file.
Total Mail Converter permits you to save time and convert only those parts of emails that you really need. For example, you can convert only sender + body fields excluding date, subject and recipient fields.
Total Mail Converter can apply headers and footers to the output files. Thus, you may add date, time, counter or any text to your documents.
Total Mail Converter will help you to tune the appearance of your resulting files. You may use any internal scheme or your own external CSS scheme.
Customer Reviews
Peter Wreen

April 29, 2014
I like Total Mail Converter Pro for its simplicity. I haven't deal with such type of software before, but when I faced the need to archive my emails I wanted the program which can archive attachments as well. My friend offered me to try the free version of Total Mail Converter. I got used to it quite easily thanks to the simple wizard and variety of options to chose.
Kimberly Johnson

February 16, 2014
The Mail Converter seems to be very good. We have tried MSG to PDF conversions so far, it was perfect. However, you should state more clearly that only the Pro version can convert attachments. So it's 4 out of 5.
Martin Tuis

July 15, 2013
I converted several emails containing defferent fonts with Total Mail Converter. It did create PDF files, but some of the fonts look fine in the resulting PDF, while others were barely readable.
Alexey Morozov Business Analyst

June 11, 2013
I think TotalMailCoverter is a great tool - definitely solved the problem I had. It was not easy to find a tool that allows to select what fields of the original email you want to see in the resulting pdf.
What do you think about this program?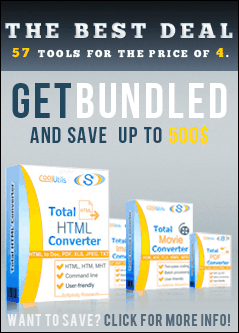 Key Features
Emails to HTM, TXT, PDF, RTF, TIFF
Batch conversion mode
Extracts attachments
Can sign target PDF files
MS Office toolbar integration
Command line support
Adds headers and footers
Tunes output files
Windows 8 compatible
Extremely easy-to-use