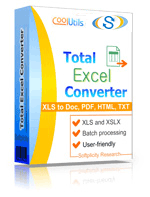 Windows
2000/NT/XP/2003/Vista/7/8
Total Excel Converter is the perfect choice to convert any kinds of tables. Supported input formats include Excel and Excel 2007, XLSM, XLT, as well as OpenOffice formats (.ods) and .xml, .sql, wk2, wks, .dbf, .tex, .dif. The list of target formats is even more extensive. It includes Word (both Doc and DocX), PDF, HTML, Access, TXT, ODT, ODS, XML, SQL, CSV, Lotus, DBF, TEX, DIFF, SYLK, LaTeX.
Total Excel Converter stricktly preserves document layout. You get the exact copy of the source file in a new format. In addition you can use special options to achieve perfect results:
With Total Excel Converter can convert every sheet to a new file.
When you convert Excel to PDF you can set user permissions. This will protect your PDF files from being modified or copied. You can also add a digital signature to output PDF files.
Total Excel Converter can easily convert OpenOffice .ods files to Microsoft .xls documents. This makes spread sheets produced by different programs compatible with your viewer. More..
To save your time, use batch conversion option. Check as many files (or folders) as you need and Total Excel Converter will convert all of them. Transparent interface provides perfect usability for both advanced users and beginners. Full command line support is available. Download it now for free.
If you need a server version without any GUI or interrupting messages take a look at Total Excel Converter X with ActiveX.
| | | |
| --- | --- | --- |
| | | |
| | | (only $49.90) |
Screenshots

"I am in fact making good use of your company's product. It does everything it is supposed to do, and does it well, and I particularly like the user interface. As far as improving your site, I can't think of anything that would make it better than it already is. Thank you!"
Complete list of supported conversions
XLT to RTF
XLT to HTML
XLT to XHTML
XLT to JPEG
XLT to TIFF
XLT to TXT
XLT to Text
XLT to SQL
XLT to XML
XLT to DBF
XLT to PCL
XLT to SVG
XLT to Access
XLT to XPS

XLTX to PDF
XLTX to DOC
XLTX to XLSX
XLTX to ODS
XLTX to CSV
XLTX to RTF
XLTX to HTML
XLTX to MHT
XLTX to XHTML
XLTX to JPEG
XLTX to TIFF
XLTX to TXT
XLTX to Text
XLTX to SQL
XLTX to XML
XLTX to DBF
XLTX to PCL
XLTX to SVG
XLTX to Access
XLTX to XPS
Unique options of Total Excel Converter
Total Excel Converter can convert any spreadsheet: Excel, Excel2007, OpenOffice, xml, .sql, wk2, wks, .dbf, .tex, .dif. It is a set of table converters in one program!
Total Excel Converter can convert each page of your spreadsheet into a separate file.
Preview Option. A selected document is displayed in Preview panel. It makes the process of finding the right file quick and simple.
With Total Excel Converter you can convert Excel to PDF and encrypt the final PDF files.
With Total Excel Converter you can convert Excel to PDF and add a digital signature to the final document.
Total Excel Converter features a flexible enumerating option to give names to the output files.
Total Excel Converter has a fit-to-page option. It is invaluable when you convert XLS files in batches.
Total Excel Converter can combine several spreadsheets into one multi-page PDF or combine into 1 TIFF file.
When you convert Excel to CSV or TXT you can select the text delimiter from the list (Tab, Space, CSV) or set your own delimiter.
With Total Excel Converter you can convert all sorts of spreadsheets via command line.
You can use Excel Converter SDK in Web\SQL server\ASP\.NET\C#. Active X is available for registered users.
Articles
Total Excel Converter in our blog:
Attention!
We are experts in all kinds of conversions. You have to pick up the right tool:
Customer Reviews
Antony Richards

April 29, 2014
That was a matter of few seconds when I used Total Excel Converter to convert a batch of Excel 2007 files to the PDF format. And the output files had exactly the same layout as the originals. Good job!
Dennis Simons

August 13, 2013
I am quite satisfied with Total Excel Converter. It's important to me that it converts XLSX files. Thank you.
Heshan

June 11, 2013
So far Excel to PDF conversion is good, I haven't tested nay other file types, thank you.
Mike Dodds

June 05, 2013
A wonderful xls converter! It easily converts xlsm spreadsheets, though I wish it could process scanned excel files as well.
What do you think about this program?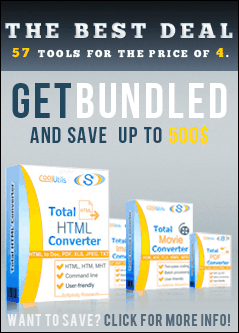 Key Features
Source formats: Excel and Excel 2007 as well as OpenOffice formats (.odt, .ods) and .xml, .sql, wk2, .dbf, .tex, .dif, .slk
Output formats: Word, PDF, HTML, Access, TXT, ODT, ODS, XML, SQL, Lotus, DBF, LaTeX, DIFF, SYLK
Page Fit Width
Page Fit Height
Batch conversion
High usability
Fast & reliable