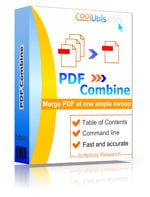 Do you need a utility that could combine several
PDF
files into one PDF? PDF Combine can do this easily. Are you looking for a program that could be easy-to-use and have enough options to satisfy your requirements? PDF Combine is the most efficient and handy program available in the market. And, you will be happy with the price! PDF Combine from CoolUtils easily: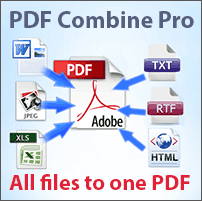 Combines different pages of invoices, bank statements, contracts, or e-books
Allows the selection of as many PDF files as you like
Combines files by folders or common name part.
Keeps your folder's structure, if you combine subfolders within a folder.
For e-books PDF Combine can create a Table of Contents. Each file name of the combined files becomes a bookmark. You can set your own bookmarks as well. So you get easy navigation within the combined PDF file.
Sets document properties (key words, author, creator, etc.)
Encrypts PDF (you can allow or forbid users to print/annotate/modify PDF file)
Signs combined PDF with your digital signature
The Pro version combines Word, XLS, RTF, TXT, TIFF, JPEG files into one PDF.
New! PDF Combine can add headers and footers to PDF pages. So you may add date or page count to each page of the output PDF document.
Win 2000/NT/XP/2003/Vista/7/8
The interface of the program is so simple that even a newbie will master it in seconds. Check the files that you want to combine, set the destination folder and press Start! Also, PDF Combine may be run from the command line to be launched from within other programs.
Our pricing is clear and concise. Pay once you get all the upgrades and fast technical support for 1 year free. All emails are answered within 1 working day. That's right! No additional charges! Want a discount?
To combine PDF files on Windows web or SQL servers use PDF Combine X (includes Active X for registered users, has no GUI).
Online help
Find out how to combine PDF files via user interface and command line. Step-by-step tutorials with screenshots will show you how to combne PDF files, how to change the order of the files, how to create table of contents, how to add date or time.
Support and Upgrades.
Read our support policy to find out support or upgrades options for PDF Combine. New registered users get 1 year of software maintenance for free.
See also: Get them all with a 60% discount!

PDF Combine tailored to your needs.

If you have a special requirement
If you want additional options

Contact us. We will gladly enhance PDF Combine so that it fit your needs perfectly. Customization is often free to our customers.
Useful articles
Find the Best PDF Converter: The Top 4 Tools to Combine PDFs Reviewed
Combine PDF By Folders
Combine PDF And Create Bookmarks
Combine PDF And Add Page Number
PDF Split and Merge Software
Join PDF Files Into One
How To Combine PDF Invoices
Merge PDF
Combine PDF files