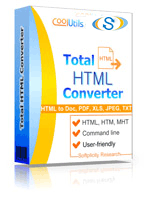 Windows
2000/NT/2003/Vista/7/8/10
Interface Languages
Total HTML Converter is a professional grade solution for converting HTML files into PDF, DOC, XLS, JPEG, TIFF, EMF, TXT, RTF, TXTW, ODT (new!) in batch. When you need to turn thousands of HTML pages into different formats, the Total HTML Converter has everything you need to do the job right. Our flexible converter lets you process HTML/HTM/MHT files via the user-friendly interface, or directly through command line prompts.
When you use the Total HTML Converter, a variety of additional settings assist you in creating the perfect output files. For example:
The converter recognizes all HTML tags, including page break control with CSS styles (1 and 2).

Total HTML Converter supports IE headers and footers (date, time, page count, etc.). You can even add a watermark to your target files.

Automatically fit HTML width to fit a specified PDF page size; an essential function when printing HTML tables. Moreover you can add a digital signature to the output PDF for enhanced document security. More unique options.
Total HTML Converter is able to convert web pages too! Enter the URL and obtain the converted file in a matter of seconds. On top of that, you can capture the pages as images. Simply enter the URL to generate a JPEG or TIFF file. We also offer a server version with no GUI or interrupting messages:Total HTML ConverterX with ActiveX.
Total HTML Converter features a flexible interface that allows new users to set up jobs using a friendly GUI, while advanced users are invited to set their own values using command prompts. This robust batch HTML converter is available as a free trial download (valid for 30 days). Get your copy today!
Screenshots

Dr. Bernhard Wandernoth
"We use TotalHTMLConverter in one of our medical software products to generate reports. Our software produces HTML output which is then being converted by means of this tool. We have chosen TotalHTMLConverter by CoolUtils because of ease of use and integration in our product. Our technical questions during the integration process have always been answered quickly and fully satisfactory. The tech support has been wide above what we are used to and we can fully recommend not only this product but also the company." EEG Info - www.eeginfo.com
Unique options of Total HTML Converter
When you need a TIFF copy of your web page, enter the url. Total HTML Converter will save the page as an image in seconds.
The well-thought interface has a built-in preview panel. You can preview your HTML documents to select the right ones.
Total HTML Converter allows adding any watermarks to the output files. It can be any text, logo or date. You select the font, the color and the position of the watermark to your taste.
Total HTML Converter features fit-to-page option. It is extremely convenient: you convert hundreds of different HTML files and get the perfectly laid out documents.
You can set margins (in inches) for your output files with Total HTML Converter.
When you convert HTML to JPEG you can customize the final image to your needs. Set the desired quality of the JPEG image to compromise the file size.
Total HTML Converter supports DPI and paper size for TIFF. This means that users can select the quality and size of the output TIFF images.
With Total HTML Converter you can add a digital signature if you convert HTML to PDF.
You can use HTML Converter SDK in Web\SQL server\ASP\.NET\C#. ActiveX is available for registered users.
Articles
Attention!
We are experts in all kinds of conversions. You have to pick up the right tool:
Customer Reviews
Jack Hannigan

April 29, 2014
Nice tool, a very user-friendly interface. I've had no issues using it at all and have already converted thousands of html pages into PDF. I have tried other programs to do this and they were struggle to use especially if talk about saving the page layout. Total HTML Converter makes it a breeze.
Robert Mauro

February 16, 2014
I love this program it's so simple and complete, I would have save hundreds of hours if I had know about this converter long ago. Thanks for a wounderful product.  Sorry I don't do Facebook,Twitter or anyother social site.
Jack Sorensen

July 24, 2013
I converted HTM files to PDFs. The program was quick, the pictures and links were included. I am satisfied with its performance.
Lora Travis

June 06, 2013
That's strange. First Total HTML Converter ddidn't convert my HTML files to PDF properly (wrong alignment). But after I emailed the support theam, they delivered a fix and it worked. So it four out of five stars.
John Marotte

June 03, 2013
Thanks for your concern, it was wonderful to use your TotalHTMLConvertor for my project.
What do you think about this program?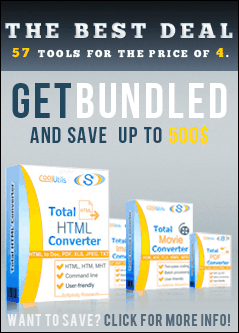 Key Features
A set of conversion tools in one converter (html to doc, html to rtf, html to txt, html to pdf)
MHT format is also supported (mht to doc, mht to rtf, mht to txt, mht to pdf, mht to mht)
Supports flash
Batch conversion mode
MS Office toolbar integration
No need for Adobe Acrobat or MS Word
Includes PDF information in the output file
Supports different charsets and encoding tables
Dynamic page breaks with headers and footers
Can sign PDF documents
Specify HTML from URL, or local file
Fit HTML Width to the chosen PDF-Page-Size
Extremely easy-to-use
Windows 8 compatible