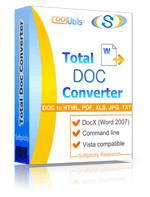 Windows
2000/NT/XP/2003/Vista/7/8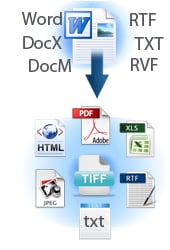 Total Doc Converter is a professional solution to convert documents (Word, Doc, DocX, DocM, RTF, RVF, or TXT files) to HTML, PDF, XLS, JPG, TIFF, and text in batch. It features a step-by-step interface. So new users don't get lost in settings. Total Doc Converter can be run via command line as well. Use Total Doc Converter to save your time and effort: convert thousands of Doc files in 3 clicks. Total Doc Converter strickly preserves document layout. You get the exact copy of the source file in a new format. In addition you can use special options to achieve perfect results:
When you convert DOC to PDF or TIFF you may combine all source files in one target file. I.e. convert five DOC documents into one multi-page PDF file.
Total Doc Converter preserves document properties (i.e. author, creator, key words, subject, title, etc.) when you convert DOC to PDF. Alternatively, you can enter new properties for the output PDF file.

Users can encrypt the final PDF file and protect it from being copied or modified. The latest version adds a digital signature as well. More..
Total Doc Converter was designed to convert documents in batches. It processes any number of docs at one go and keeps folder structure to avoid confusion. Download the most powerful batch DOC converter with a well-planned interface for free now. Note that the 64-bit version is available upon request. If you need a server version without any GUI or interrupting messages take a look at Total Doc Converter X with ActiveX.
Screenshots

"I am certainly making good use of TotalDocConverter. Right now I am converting a huge file containing 57000 documents. The only problem I have is that it takes more than an hour to start, because all the documents have to be loaded but I suppose that can't be changed, otherwise they cannot be checked for conversion. Thank you!"
Complete list of supported conversions
Word to PNG
Word to DocX
Word to Exe
Word to XPS

Doc to PNG
Doc to DocX
Doc to Exe
Doc to XPS

DocX to PNG
DocX to DocX
DocX to Exe
DocX to XPS

RTF to PNG
RTF to RTF
RTF to DocX
RTF to TXT
RTF to Exe
RTF to XPS

TXT to PNG
TXT to DocX
TXT to Text
TXT to TXT
TXT to Exe
TXT to XPS
Unique options of Total Doc Converter
Total Doc Converter supports DocX (the format of Word 2007 documents). Having installed this free Microsoft Office Compatibility Pack you can convert DocX files to HTML, PDF, XLS, JPG, TIFF, TXT with Total Doc Converter.
Preview Option. Every document is displayed in Preview panel. You can zoom it in/out or view the document full-sized. Use preview option to quickly find the right file.
Total Doc Converter can convert Doc to PDF and add page numbers or any text to the header or the footer of each page.
With Total Doc Converter you can encrypt the final PDF files. Set owner/user passwords and user permissions.
When you convert DOC to JPEG you can define the quality of the output image. The better quality value leads to a larger file size.
Total Doc Converter converts Doc to PDF and allows you to add a digital signature to the final document.
Total Doc Converter supports several types of compression for TIFF. Check any from the list. If you are at a loss the program will automatically choose the best value.
Articles
Total Doc Converter in our blog:
Customer Reviews
Michael Green

April 29, 2014
Total Doc Converter did a good job for me: it easily converted all my lecture plans saved in different DOC files in one PDF document. Now all my plans always there and this is more than comfortable, there is order and structure at last. For me Total Doc Converter is the perfect tool, easy-to-use, I wish I knew about it earlier.
Richard Brownel

February 16, 2014
We use Total Doc Converter to turn Doc files into PDF copies. The combine option works pretty well for us.
Klaus Droeder

February 16, 2014
ok, so here is my feedback: I tried a couple of MS Word converters before I downloaded and tested your product. And I have to say, that it works perfectly. I converted about 300000 Word documents without any error. The resulting PDF documents look good and are reasonably small. This is a great product!
Jannifer Dowy

August 13, 2013
Total Doc Converter runs via command line all right. No problems so far.
Nagaker

July 15, 2013
I like Total Doc Converter, it's easy to use. I love being able to covert docs from my desktop or anywhere on my computer.
MaryAnn

June 18, 2013
Total Doc Converter is great when it comes to price/features ratio. My prvious program converts DOC to PDF only and I had to use another tool to get TIFF copies. Now I use Total Doc Converter only! Thanks!
Rober Ashland

May 16, 2013
For your DOC to PDF application I saw that you have a web-server version. Does it work exactly the same way as the regular desktop converter does? I am quite satisfied with my doc converter and am thinking about purchasing a server version.
Henry Stafford

April 25, 2013
Your Doc Converter works all right though I've tested it only on doc to pdf conversion. I appreciate the combining option. The key didn't work at the beginning, but I was sent a new one that unlocked the program.
What do you think about this program?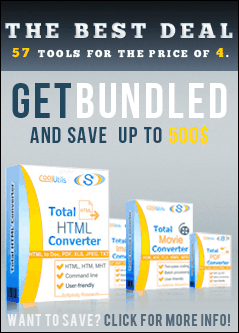 Key Features
A set of converters in one (doc to pdf, doc to html, doc to xls, doc to jpg, doc to tiff, doc to txt)
DocX (Word 2007) to PDF, Excel, HTML, JPEG, TIFF, RTF, Text
TXT to PDF, Excel, HTML, JPEG, TIFF, RTF, Text
Header & Footer support
Integrates into Windows
The content of each file can be viewed before conversion
Transparent interface