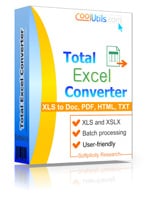 Interface languages: English, Spanish, German, French, Russian, Japanese.
Windows 2000/NT/XP/2003/Vista/7
Total Excel Converter can convert XML to Text in a twinkle of an eye. This is one of the most advanced and versatile file conversion utilities available today. This program features an intuitive interface and a handy automatic wizard, so most of the work is performed automatically. Users are only required to specify files to be converted and select Text as an output format.

This XML Converter has a few options, which put the program above all other ones in terms of handiness. These are: batch function, wizard, built-in image viewer, and command line support.
How to Convert XML to Text
It does not take expertise on your part to make XML into Text. This XML TXT converter does everything automatically. You are only to choose between functions and formats.

Run the utility and select the folder in the folder tree, which contains XML files. The files will be shown in the list to the right of the folder tree. Check the files, which you are going to convert to Text. If you would like to convert XML to Text in batch, use Check All button. All the files will be check-marked automatically. Thanks to this function, you can convert scores of XML files to Text in one go. Select Text in the format bar or Convert menu.

Use the wizard and select your preferred conversion parameters. The wizard will steer you through the procedure. You can either use the default settings or specify your own conversion parameters. When you are done with the settings, click Start.

Total Excel Converter integrates into Windows. This permits you to manage your XML files right through the desktop. Just right-click on a file and select Convert to in the right-button menu.

By aid of command line, you can convert XML to Text from within other programs.

Total Excel converter supports a large number of formats, such as .sql, .tex, .dbf, .xml, .wks, .wk2, .dif, Excel. Excel 2007, OpenOffice, and the following target formats: Word (Doc, DocX), Access, HTML, TXT, PDF, XML, SQL, TEX, DBF, ODT, ODS, CSV, Lotus, DIFF, SYLK, LaTeX.

This XML converter is shareware. You can either purchase it right now or download the free trial version, which is valid for 30 days. Registered users will receive free technical support and regular updates.