Combine PDF Files Windows
PDF is a popular format: it is secure, portable, and universally compatible. Converting one file is easy, but what if you need to merge several documents into one? With PDF Combiner, this task is a piece of cake. It is a quick, efficient, and reliable solution for merging on Windows. You can even work offline!
Forget expensive apps like Adobe Acrobat. PDF Combiner does not need a cloud connection - it works on your desktop computer offline. Your files will appear as one document. Its structure and appearance can be adjusted based on your needs. Combine PDF files on Windows in a flash! The output is also easy to navigate, regardless of its size.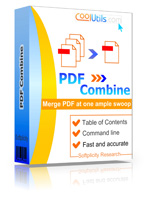 How to Merge PDF Files on Windows (Including Windows 11)
Download the tool from our website and install it. It allows you to combine PDF files on Windows of all popular versions of (2000, 2003, Vista, 7, 8, 10 and 11). Next, launch the program and start merging! The interface is well-designed and intuitive, so even beginners can join PDFs easily.
The system has plenty of adjustable settings. Its versatility is unbeatable. You can merge PDF files on Windows in different ways:
combine by folders to transform large volumes of data;
add bookmarks for easier navigation;
add headers and footers (e.g., page numbers, dates, or company name);
combine files with similar names;
maintain the original file/folder structure;
add a table of contents,
add watermarks,
and more!
How to Combine PDF on Windows 11
Launch the program on your Windows 11 computer. Choose the files you want to convert and adjust the settings if needed. The tool can combine PDF on Windows quickly and smoothly! There are only 5 simple steps to take:
Check the boxes next to source files/folders in the tree structure to select them.
Rearrange the items if necessary using the Up/Down options or drag-and-drop.
Click on the 'Combine to PDF' button in the left upper corner.
Use the wizard to adjust the output settings as you see fit (e.g., add headers/ footers).
Click the 'Start' button to merge the files.
The wizard is easy to use, and navigation is intuitive. Upon completion, you will find the merged document in your preferred location. You can also combine PDF on Windows using the command line.
Creation of Bookmarks
Combine PDF on Windows into multi-page documents which are easy to navigate! The system allows you to create bookmarks in different ways. First, they may be created automatically using source file titles. Secondly, you can add your own bookmarks from a *.txt file. This is particularly useful when combining chapters of a book.
Table of Contents
The system can generate a clickable table of contents to make navigation effortless. Each of the files is a clickable link. No matter how large the PDF, it is easy to search. Change the appearance of the table according to your liking.
How to Combine Several Pages that Share a Common Name Part
«We are looking for tool, or combination of tools. I want to merge two PDF files that partially share a file name; for example «543451.pdf and 543451_auto_ABC.pdf». It could work in two ways: 1) the tool checks for some combination of numbers or 2) the tool checks for the first six characters of each filename. Maybe you can help me find a solution?»
With our PDF Combine tool users can combine all sorts of different page types. By specifying the criteria you'd like PDF Combine to look for, you'll be able to merge pages based on common name parts, shared folders, and more.
Here is the step-by-step instruction:
Launch PDF Combine and locate the folder(s) containing the .pdf files you'd like to combine.

Then add a check mark beside each file in the FileName frame that you want to include.

Once you've added a check to each of the files that you want to work with, click Combine to PDF in the upper left-hand corner.

This takes you to the options window where you'll see Set Destination opened by default. Now you'll need to click both the Combine and Combine by common name part buttons. (Here you can choose to keep original folder structure or specify a new folder name).

Next, click on Range in the left-hand column. This will display the Range window in which you can select the range you want to analyze for grouping files (i.e. the first 6 characters). Here you can choose to analyze all file names, or, analyze part of the file name by specifying which character to start from, and which to end with.
P.S. There is also a Pro version that combines PDF as well as DOC, TXT, RTF, HTML, TIFF, JPEG, XLS files into one PDF.