CoolUtils is pleased to introduce TIFF Combine – a unique tool designed to combine several files in TIFF into multi-page TIFF or PDF document. Unlike many other programs for image merging, TIFF Combine has transparent and intuitive interface, making it easy to use even for beginners. You can combine TIFF files into one multipage PDF document in a matter of 5 clicks.
Here's our "How-to" guide for beginning users who have never before had to combine TIFF into PDF:

Download and install TIFF Combine. We recommend you check out a free evaluation version first and then make a competent choice!


Launch TIFF Combine. We suggest that beginning users take advantage of intuitive user interface (GUI), and advanced users quickly access the converter via command line.

Select the files you want to merge TIFF into PDF. A list of all the files supported by TIFF Combine is generated automatically by the program, so you do not need to spend your precious time on uploading.

Set PDF as the target format by clicking on the button that says "PDF". In the new window, make sure that the "Combine images into one document" option is selected. Use the default file name or enter the desired one manually.

You can add headers, footers, crop files, select desired compression rate, choose paper size and orientation, or leave these and other settings as set by default and begin conversion. Simply click "Start!" and relax while the program does all the work for you!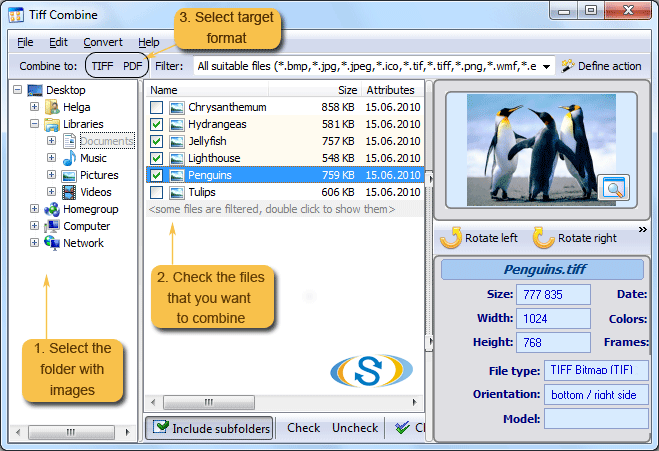 Try TIFF Combine for free today! Simply click here and use the program for free for 30 days - no limitations, no adware, no spyware or viruses, no registration! Make sure that TIFF Combine is worth every penny!
Explore our TIFF Bundle for more advanced TIFF processing and editing tools at CoolUtils TIFF Bundle.