PDF Combine is a versatile program to create various types of documents, including banking documents, invoices, electronic books, etc. Most users find it useful to create bookmarks for every combined file. PDF Combine offers 3 ways of creating bookmarks.
First, every file name can become a bookmark. Second, you may want to make PDF's title to be used as a bookmark. Third, you can customize your bookmarks.Create your custom list of bookmarks in a text file and the app will use them.

--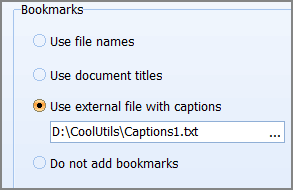 --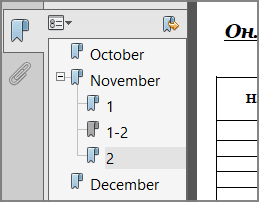 PDF Combine has an intuitive user interface with a wizard, which will help you follow the procedure. You won't get off the track! You will be able to see all the buttons and options. Next time you use this program, you will be doing it automatically.
How to Combine Pages and Create Bookmarks
If you have decided to combine PDF and create bookmarks, follow these simple steps:
Select the folder with PDFs in the file tree and navigate the list of files, which will appear on the right. There will be a checkbox near each file icon.
Check/uncheck the PDF files, which you are going to merge. If you would like to include all the files into your future document, click Check all. In order to remove the ticks, click Uncheck all. Press Combine to PDF.
Navigate the wizard. It features a number of options too. Bookmark option allows you to create bookmarks and make your future document easier to navigate. You can use file names, document titles and external files with captions as bookmarks. Also, you can choose not to add bookmarks by ticking the respective option.

Select destination path and folder. Click Start to combine.
This program features command line, which you can use to manage your PDFs from within other applications.
PDF Combine is great for both beginners and experienced users. Purchase the program and get free tech support and updates for free.