Combining a few documents from DocX format to PDF is not a problem, but it usually takes some time to arrange documents properly. You need to copy paste info from all required documents into one, and only then use standard option of export to PDF. Compared with this PDF Combine Pro offers much more comfortable way of how to merge several DocX files into one PDF document. It has a range of advantages:

Automatic conversion of a few DocX files to PDF (no need of pre-editing)

Ability to add various information to footer and header of the future PDF document

Automatic bookmarks generation (for handier navigation through the complex PDF file)

Ability to group DOC files into one PDF file by common name part

Ability to combine 2 DocX files into one PDF via command line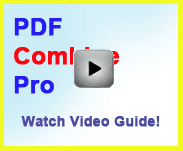 These add-ons are all you may need when combining documents into PDF formats. All the settings are made in handy wizard that pops up after you select source DocX documents and press 'Combine' button. The options are separated to a few tabs, so you can easily find the parameters you require. In the last tab you will find a button for generating command to merge DocX into multi-page PDF from the command line. It will be saved in .bat file that you will need to call in CMD processor.
PDF Combine Pro is functional utility for easy and quick exporting DocX files to a single PDF document. When you need to process a lot of files and combine them to groups basing on common name part, you don't need to do any manual selection and repeat combining process for each group separately. PDF Combine Pro can do this automatically. You just select the proper combining mode in settings wizard and that's all! Bookmarks are generated in the same way easy.
You can try all PDF Combine Pro features right now, as up-to-date pack is already available here.