Total PDF Converter runs on Windows 98/NT/ME/2000/XP/Vista/7.
Total PDF Converter is a user friendly, time- and money-saving utility for rendering PDF files in XLS, Doc, HTML, Text, CSV, JPEG and TIFF formats. By aid of the batch function, you can handle hundreds of files instantly. Total PDF converter saves you the necessity of purchasing the costly Adobe Acrobat.

Total PDF converter allows you to convert PDF to XLS with ease and lightness. The program has a robust and compact user interface and a Wizard that guides you through the process of conversion. With the Wizard's help, you can specify your own conversion settings, or you can use the default settings. This PDF 2 XLS converter is a piece of cake for even a first-time user.
How to Convert PDF to Excel
Run the program and select the needed folder in the folder list on the left side of the interface. A list of PDF files contained in this folder will appear in the main window. To specify files to be converted, check/uncheck them. You can convert a few files or all of them at once, no matter how many files there are in the folder. This PDF XLS converter deals with a thousand of files just as fast as it does with one file. Once all files are selected, click the Convert menu on top of the interface and select Excel. You can also click Excel on the toolbar.

Total PDF Converter integrates into Windows. Once downloaded, the Convert to option appears in the right-button popup menu. This allows you to convert PDF to Excel right from the desktop. The program is also operable via command lone.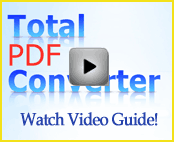 Total PDF Converter is readily available online. You can purchase the registered version and get all the upgrades for free and on a regular basis. If you would like to study the basics of the program, you can download a free version and use it for a 30-day trial period. With the trial version, you will not be able to use files for commercial purposes, but it is a great opportunity to get acquainted with the program!