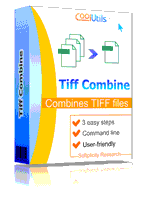 Roll over to see full-sized: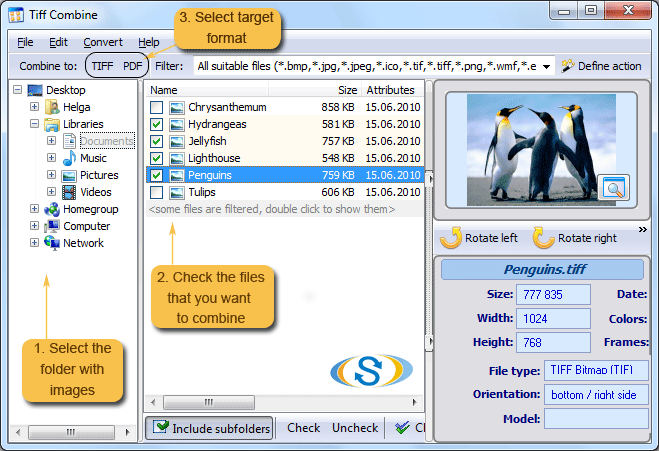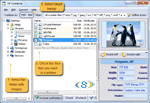 Windows Vista/7/8/10/11
Working with graphics one of the most popular problems is how to automatically join images and faxes into one file without any manual copy-pasting and editing. Professionals can use various graphic editors, but even this requires time that is not always enough. Most handy solution for such purposes is TIFF Combine – the program, able to join TIFF files or images of any other format into one single TIF or PDF file.

The main advantages of TIFF Combine applications are plain, logically correct user interface and extended functionality set that allows to adjust conversion for what you specifically need. It is a unique utility, able to perform the following functions:
Multi-conversion: you can process as many files and file folders, as you like in one program cycle. In this case all settings are made once for all files.
Adjustable appearance: you can set the appearance options for the future TIFF files, including image orientation, TIFF compression type, color palette, etc.
Crop feature: you can crop the necessary fragments of images and then join them into one TIFF file. In such a way you can remove all unnecessary elements from graphic files.
Image combining: there is a choice of combining modes. You are able to combine TIFF source files into one TIFF image, create separate files for each source files folder, convert all images into separate files, etc.
And this is only a part of features provided by TIFF Combine. For the better convenience when selecting sources you can use the in-built image viewer that displays file content together with its characteristics and allows to rotate images for better viewing mode.
TIFF combines supports not only TIFF file type as a source for combining, it is able to convert into TIFF files of any other graphic file type used nowadays that makes it a universal solution for the wide range of formats. TIFF Combine is already available online. Buy it now or download a trial version, using the links below.