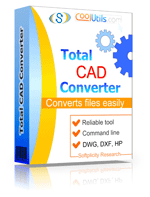 Windows 98/2000/NT/XP/2003/Vista/7
Interface languages: English, Spanish, German, French, Russian, Dutch, Swedish, Italian, Portuguese, Czech, Japanese, Chinese, Korean
CGM, which stands for Computer Graphics Metafile, is a free and open international standard format used for text, raster graphics and 2D vector graphics. Even though the format itself is free, the software it can be opened with is very expensive. CGM files can be viewed in many programs, but all of them cost a lot. Among applications that can open CGM documents are IMSI TurboCAD Deluxe 18, ACD Systems Canvas 12, CorelDRAW Graphics Suite X5, Corel PaintShop Pro X4, Corel WordPerfect Office X5, Autodesk AutoCAD 2012, Adobe Illustrator CS5, CADSoftTools, Larson Software Technology VizEx Reader, and Informative Graphics MYRIAD Desktop.
If you do have one of these programs, then you are perfectly fine with CGM. However, if you do not, you might want to convert CGM into another format. How about converting CGM into DXF, a drawing exchange format that can easily be opened with OpenOffice and many other applications?
The easiest way to convert CGM to DXF is to use CGM DXF converter. However, we suggest you try a multifunctional Total CAD Converter developed by CoolUtils.

Here are 5 reasons why you should choose Total CAD Converter:
Unlike many other applications, this converter helps you convert CGM files into DXF and many other formats, like PDF, TIFF, JPEG, BMP, WMF, PNG, BMP, CGM, HPGL, and SVG.
Total CAD Converter can convert files individually or in batch. If you choose to convert CGM to DXF in batch, you can save all CGM files in one document or in several ones.

Total CAD Converter can combine files based on their file name or even location!
Total CAD Converter allows you to not only convert CGM files, but also to resize them! Batch option works for resizing as well as for converting.
Finally, Total CAD Converter is more affordable than you think! Priced at under $100, this program is definitely cheaper than CorelDRAW, Adobe Illustrator and other graphics software worth $500-600 each. But wait… You can use Total CAD Converter for free for 1 month! Just get your free trial version now!