| | | |
| --- | --- | --- |
| Print DXF | | (only $149.90) |
With the help of Total CAD printer, you can print DXF files in batches through command line and GUI. This is a great chance for you to enjoy the fastest process of printing you have ever witnessed. Now you can print out large numbers of DXF files in just a few clicks.
Total CAD Printer features a user friendly task optimization tool. You donít even have to use AutoCAD. The program permits you to allocate files among printers, if you are using several ones. It presents a selection of AutoRotate options and trays, so that you can choose orientations for files and determine page size. Fit to Page option will help you scale your drawings.
Why Use Our DXF Printer
Total CAD Printer supports the following formats: DXF, DWG, PLT, HG, HGL, HPG, PLO, HP, HPGL, HPL, HP2, HPGL2, GL2, SPL, PRN, SVG, CGM. This DXF has a flexible one window interface, which is designed in such a way that you can see all the columns and menus and take appropriate action. All actions are virtually simple, and the Wizard will help you set your desired parameters.
To print DXF files, run the utility. Choose a folder in the left-hand part of the interface. A list of files contained in the folder will appear in the file list. Specify files to be printed by checking them. Then click Print. Specify your settings by aid of the Wizard and click Start.
Total CAD printer is very flexible. It allows you selecting paper orientation, scaling, tray or printing quality.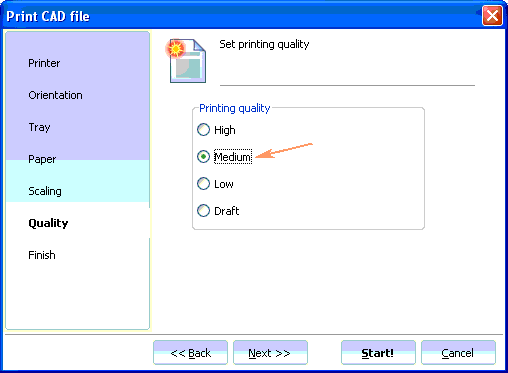 You can add your most used folder to the list of favorite ones. To do so, select your favorite folder or folders in the folder list and click Add Favourite on top of the interface. They will be displayed right above the file list, so that you can choose them any time without going to the folder list.
This CAD printer is compatible with all operating systems from Windows 98 through Windows Vista and 7. You can purchase the registered version of Total Cad printer and get all needed support and upgrades for free. You can also download a free evaluation version, which is valid for 30 days.