Total Movie Converter is a powerful utility for converting video files. Also it allows editing movies to make them fit your specific needs. Using this video converter you can make tracks more compact by cutting their frame size. If you have large WMV files stored in computer and want to save your memory space or make the file fit into a CD, you can resize them with the help of Total Movie Converter.
Sometimes it is reasonable to make WMV video smaller, if you convert HD files to WMV format and don't need to save such big video resolution in the output copies. The procedure of resizing files includes the following:
First you need to define source files that are going to be resized.
When sources are selected (there can be more than one source file), press WMV icon in the top format bar.
You will see a settings wizard appeared offering different formatting options.
In order to resize WMV video files go to Resize inlay
Choose one of predefined sizes (from 320 x 240 up to 1920 x 1080 px) or set the required size manually.
Click 'Start!'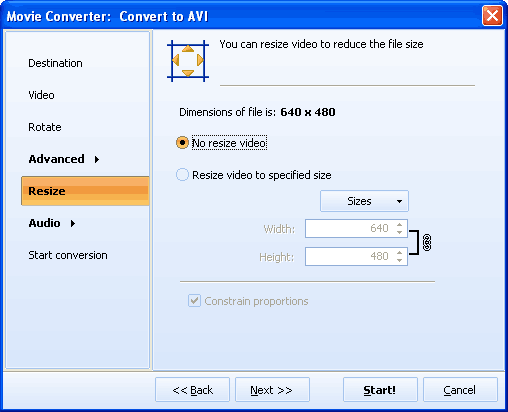 Mention that by default the frame proportions are saved. If needed you can reduce video size only by width or by height, uncheck 'Constrain proportions' option.
If you are running WMV converter in command line mode and want to resize your videos, you need to specify resizing option in the following format:
-z <width>x<height>
Width and height parameters must be specified in pixels. Resizing option is available for both WMV files and files in other formats that are converted to WMV. This useful feature helps to save memory space for your local video storage, cutting the size of video frame. Try it now!