Printing PDF files without special software can be a problem, if you print a lot of files of different formats and need to deal with a few printers. All this becomes much easier, if you manage your printers via Total PDF Printer. This program features a lot of printing modes and adjustable parameters that will help to optimize the process of printing PDF files. To save the paper, it offers ability to print PDF files in duplex mode, i.e. print PDF pages from both sides of paper sheet.
You do not need to turn each sheet by your hands, as the program changes printer settings so that this process is automated. When you deal with many files, it would be a great help. This is a batch PDF printer, so you can print all required documents by one command. Using various additional parameters you can set paper formatting, margins, scaling, choose required tray and set document separator - a page that will separate one printed document from another (in case of batch printing).

The settings made will be applied to all selected PDF sources. In order to enable vertical duplex printing, do the following:

Select source files for printing

Press Print

Go to Duplex tab of the popup manager

Checkmark the Vertical mode

Press Start!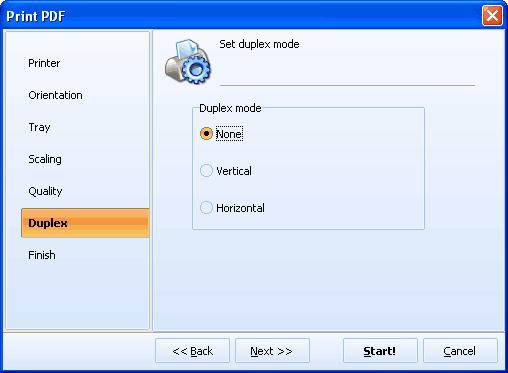 After this your files will be printed in duplex vertical mode. You can also enable duplex printing from the command line. The program supports managing printing tasks via command line. The parameters for duplex printing is called '-d'. It has three values: none, vertical or horizontal.
Total PDF Printer is a perfect suit for personal or professional use for printing PDF files. It automatically connects to all printers enabled in the system and redirects printing tasks to the trays you specify. Print your PDF files in a smart and efficient way using this program.