Want Total Audio Converter cheaper?

With our partner TrialPay you can get it for FREE (regularly $19.90)!

The widest list of supported formats to convert almost any audio file
( WAV, MP3, OGG, WMA, APE, FLAC, MP4, AAC, MPC and much more!)
Convert audio files right from your desktop.
Built-in CD ripper to convert CDA to MP3, WAV, WMA, FLAC, OGG, APE.
Easy-to-use interface

Alternatively, get Total Audio Converter for $2.67
within our CoolUtils Pro bundle!
Are you thinking about purchasing Total Audio Converter? Lots of formats supported, built-in CD ripper and audio player along with ease of use for $19.90 seem a good deal. Wait! You can get a lot more!

CDuke will help you to burn your songs to CDs. If you have digital photos you will find Total Image Converter indispensable. It can convert your images between all possible formats, crop, resize, rotate and watermark them in one process. Total Movie Converter will resize your movies to be suitable fro the web. The advantage is that the interface is very similar to the one of Total Audio Converter - you will easily figure out how it works. New options - same interface. Say no to hard thinking over another ill-thought tool;)

Just think - you get over 40 CoolUtils tools just for $99. The tools worth $500 you get 5 times as less. Save $400! Coolutils Pro bundle can not only save your money but also you time. Next time you need some software, you don't have to go and search for it in the web. You already have it on your pc!

Note that Total CAD Converter, Total GIS Converter, Total Vectorize, Total PDF to DXF Converter, Total Mail Converter Pro, Total Outlook Converter Pro, Total Thunderbird Converter Pro, PDF Combine Pro, Tiff Splitter Pro and the X versions of the programs (those that run on web servers) are not included into the bundle.
Support and Upgrades.
Read our support policy to find out support or upgrades options for CoolUtils tools. New registered users get 1 year of software maintenance for free. Paid upgrades are optional. If you keep using your version no other fees apply.
| | |
| --- | --- |
| | Only $99 (you save up to $500) |
The full list of products in CoolUtils Gold Bundle:
Total Image Converter
Total Audio Converter
Total Movie Converter
Total HTML Converter
Total PDF Converter
Total Doc Converter
Total Excel Converter
Total CSV Converter
Total XML Converter
Total Mail Converter
Total Outlook Converter
Total Thunderbird Converter
Total Outlook Express Converter
Total Webmail Converter
OST to PST Converter
Tiff Paging
Tiff Splitter
Tiff Combine
Tiff Teller
PDF Splitter
PDF Combine
Tiff Pdf Cleaner
Total PDF Printer
Image2Ico
EXIF Viewer
Total Image Slicer
Total Server Monitor
Total Folder Monitor
Print Maestro
Total CAD Printer
| | |
| --- | --- |
| | Only $99 (you save up to $500) |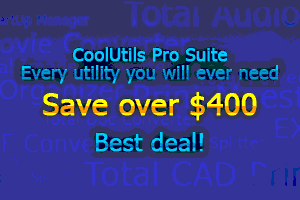 Fond of taking pictures?
Find out how CoolUtils Pro Bundle provides advanced opportunities for digital camera owners!
Benefits:
All CoolUtils programs have similar interaface. Once you know how to handle one of them, you know them all. You don't waste time to search for another tool in the web.

We are developers, not resellers. We guarantee the quality of our programs and are open to customizations specially for you.

In case you lose your copy, come to our site and download a new one for free. The key is also sent for free per your request.

Once paid you get all the upgrades for 1 year for free.

Prior tech support is also free for registered users.
Questions
Upgrade to CoolUtils Gold Bundle after the purchase of another tool
"I bought Total Audio Converter just hours ago. Now I see the offer on CoolUtils Pro, which includes Total Audio Converter. Can I get a $19.90 discount on the offer, since I just bought it?"
Yes, you can upgrade to CoolUtils Gold bundle after the purchase of one of our tools. You pay just the difference! To get that special purchase link, contact our support team.
---
I will buy a new computer and will have to re-download everything. Will this be a problem?
No. You just go to our site www.CoolUtils.com and download the programs you need (hit Download button). This will be a trial version. You can turn it to normal registered version entering the key. You get the key after the purchase. In case you lose the key contact our support service. They will resend you your key again. You are welcome!
---
How many machines can I put these applications on?
One registered copy of CoolUtils software may be installed by a single person who uses the software personally on one or 2 computers (for example, on pc and a laptop).
---
I don't want to downlaod all the tools separately. Give me one download link!
No problem. Download the whole CoolUtils Gold Bundle here.