APE, or Monkey's Audio Lossless Audio File, is an audio format that compresses audio data using Monkey's Audio lossless algorithm. This audio format can be played with special programs only: Monkey's Audio, MPlayer, Foobar2000, SoftRM Ape Ripper, DT Soft DAEMON Tools, Lightning UK!, ImgBurn, and J. River Media Center. The only exception is Winamp Media Player 5.6, but it needs a special plugin, known as Monkey's Audio.
The limited compatibility of APE files with standard audio software, makes many users want to convert APE to MP4. MP4 is a movie or video clip that uses MPEG-4 compression, and that is oftentimes used for audio files. MP4 files can easily be shared over the Internet.
The easiest way to convert APE to MP4 is download a specialized audio converter. Consider trying APE MP4 converter by CoolUtils, Total Audio Converter.

This program has been updated lately and currently features numerous helpful functions.
First and foremost, you can convert APE to MP4 and many other formats. Total Audio Converter supports WAV, MP3, OGG, WMA, APE, FLAC, MP4, AAC, and MPC as target formats and almost all audio formats as input formats.
Second, Total Audio Converter lets you grab audio from famous websites like YouTube. The latest version of Total Audio Converter even allows for direct conversion of YouTube files saved on your laptop or PC. Simply drag and drop the file to TAC to convert it to other audio format.
Third, Total Audio Converter supports batch conversion. Now you can convert hundreds of audio files in only a couple of clicks!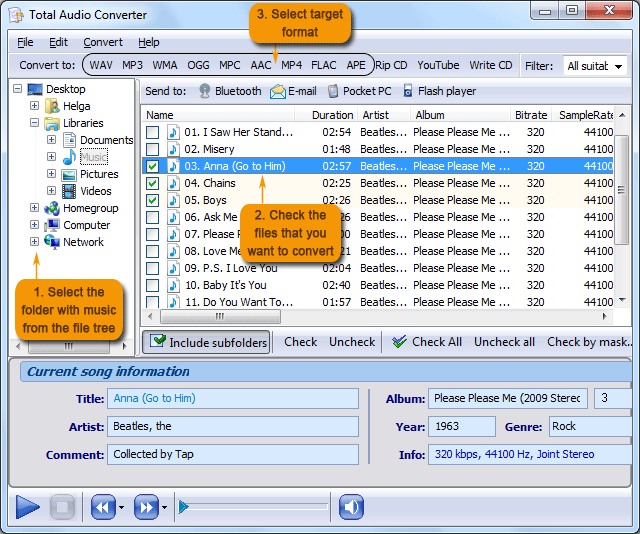 Here's how to convert APE to MP4:
Download Total Audio Converter. You can get the free trial version and use it for 30 days to evaluate the quality of CoolUtils audio converter.
Install the program following the instructions of the wizard.
Launch the program and select the files you want to convert from the tree of folders.
Set MP4 as target format and click "Start!" to begin conversion with default settings.

Get your free trial version of Total Audio Converter now! There's no obligation!