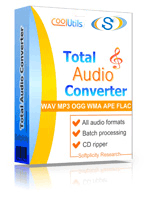 Windows Vista/7/8/10/11
Interface languages: English, Spanish, German, French, Russian, Dutch, Swedish, Italian, Portuguese, Czech, Japanese, Chinese, Korean
FLAC, an open-source audio format that uses lossless audio compression, contains the filename and checksum information. This format is widely used by computer users who value high-quality sounding of audio tracks.
However, if you are not one of those users and, thus, lack specialized software to open FLAC audio files (Roxio Creator 2012, Adobe Audition CS5, Nullsoft Winamp Media Player 5.6, VideoLAN VLC media player, Foobar2000, GoldWave, VUPlayer or aTunes), you might find yourself looking for an audio converter.
Oftentimes, users choose to convert FLAC to APE, a Monkey Audio Format that also uses lossless compression technology and yet is easier to deal with. One of the ways to do it is to use online FLAC APE converter. However, we suggest you try Total Audio Converter developed by CoolUtils. Being an experienced software development company, CoolUtils has designed Total Audio Converter as a perfect tool for FLAC conversion.

All you need to do to have all your files converted from FLAC into APE, is:
Download Total Audio Converter now. You can choose from the 2 options: a free 30-day trial or a fully functional paid version of the converter.
Install Total Audio Converter following the instructions. Don't forget to select your preferred language. You can choose from Spanish, German, French, Russian, Dutch, Swedish, Italian, Portuguese, Czech, Japanese, Chinese, and even Korean.
Launch the program by double-clicking on its desktop icon, selecting it from the Start menu or launching it from within the command line (recommended for advanced users).
Select FLAC files you want to convert from the tree of folders generated by Total Audio Converter automatically.
Set APE as target format by clicking on the button that says "APE".
Finally, clicking the "Start!" button to begin automatic conversion process.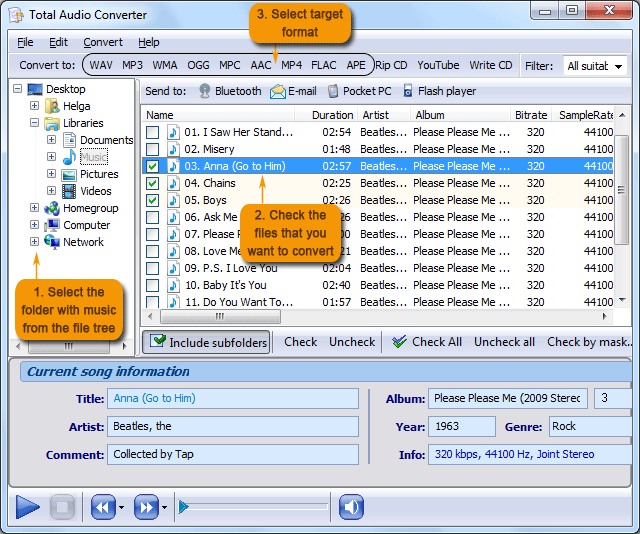 You can use Total Audio Converter to deal with audio files saved in other formats as well. CoolUtils converter supports WAV, MP3, OGG, WMA, APE, FLAC, MP4, AAC, and MPC.
Click here to download you free trial version of Total Audio Converter now!