Are you looking for a good MP3 converter? We offer the perfect one. There are a lot of free mp3 converters on the market today. But very few of them are worthy. Total Audio Converter is the right choice.

Total Audio Converter is a most powerful MP3 converter. Use it to easily convert WAV, OGG, WMA, APE, FLAC, MP4, AAC, MPC to MP3. It can convert MP3 files to other formats as well. You may convert your music both via user interface or command line.

You probably are not going to convert one track only;) Our music converter to mp3 is able to convert hundreds of them at a time! When you convert several folders with music TAC keeps folder structure. The output audio files are always in perfect order.

Create an mp3 collection out of your physical CD's. A powerful CD ripper inside Total Audio Converter to convert CDA to MP3! TAC can also convert audio from YouTube videos (imagine YouTube to MP3 conversion in 1 click!).

We are sure you won't find a better value! You get an awsome MP3 converter, CD ripper, YouTube converter and audio player in one go. Hurry up - join the gang of TAC users. There are 22,000 of us already! Total Audio Converter also converts:
MP3 to WAV
APE to MP3
MP3 to OGG
MP3 to WMA
MP3 to AAC
OGG to MP3
WMA to MP3
Download Total Audio Converter to convert your MP3 files now.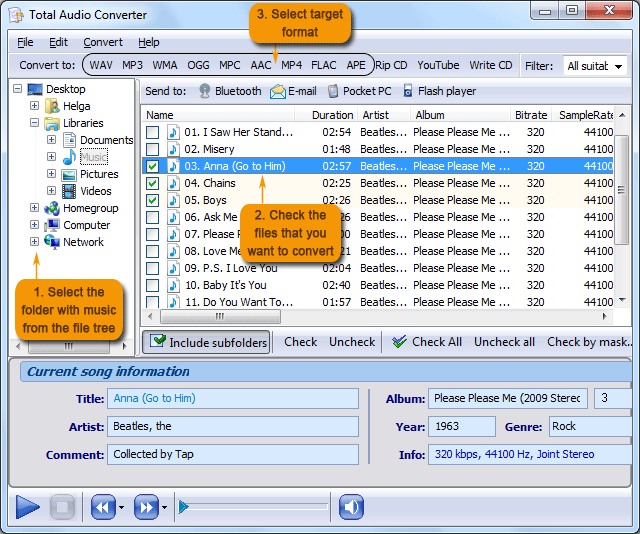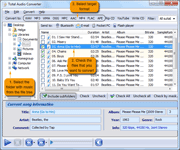 We are passionate about Total Audio Converter. We constantly work on enhancing it with new features - always with the help of our users. Take part in creating Number One MP3 Converter! Download your free copy, test it and tell us what you think via support form. We answer any email same day.
TAC runs on Windows Vista/7/8/10/11.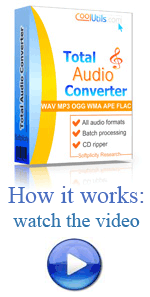 "I think the program is GREAT. I tried 5 free music converters to mp3 before I bought yours and basically had to jump through hoops and they weren't easy to understand in order to convert. I'm a hacker and I was really able to hack my way through your program to figure it out.
Your program is like two clicks and I'm converting. It was just what I was looking for. Thanks."

Barbara Burke