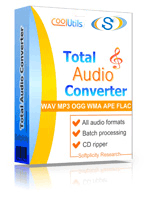 Windows Vista/7/8/10/11
Interface languages: English, Spanish, German, French, Russian, Dutch, Swedish, Italian, Portuguese, Czech, Japanese, Chinese, Korean
This audio converter supports almost all audio formats, including MP3 and MPP. You can check as many MPP files as you wish and select MP3 as a target format. The converter will do the job very quickly. It boasts a number of advanced features and has a reputation of one of the most versatile and user friendly converters. If you drive or travel a lot and cannot spend a minute without music, you can load your MPP collection into it and do a few simple manipulations and fill your trip with music to capacity.
Batch mode allows you to do that almost instantly. There is no great difference between converting one file and converting a bulky audio collection. This audio converter features command line, CD-ripper and built-in audio player.

How to Convert MPP to MP3 in Batch
Converting MPP to MP3 with this audio converter is sheer pleasure. You don't have to perform any complicated manipulations. Most of the work is performed automatically. The program sets optimal conversion parameters automatically, but there are different options, so you can set your own parameters.
To convert MPP to MP3, launch the MP3 converter and navigate the file tree. Specify the MPP tracks, which you are going to convert. There are checkboxes in front of each track or folder. Batch mode allows you to convert whole albums in one go. All you need to do is check the folder with the tracks.
Select the target format in the toolbar or navigate Convert menu. Select parameters via the wizard. Specify output folder. You can leave it as it is, or choose another one. The same thing goes with sample rates, channels, bitrates, etc. You can either leave default settings or adjust it in your individual way.
Click 'Start'. You will see your files in the destination folder, which will open automatically when the conversion is over.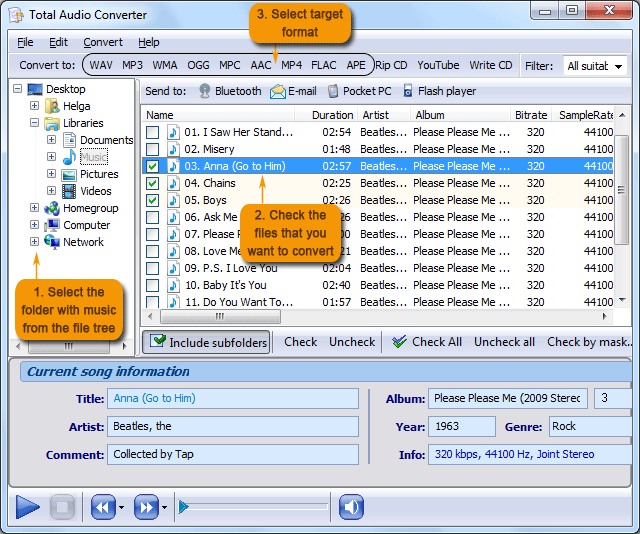 This MPP converter also features CD ripper and YouTube option, so you can rip audio directly from YouTube.
The tool integrates into Windows seamlessly, so you can launch it via the right-hand mouse button. Right-click on an MPP file and go for it.
If you have purchased the license version of this converter, you can enjoy all of its advanced features and receive free support and updates. The trial version is valid for 30 days. You can use it to test the tool and make your opinion.