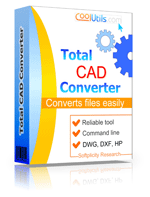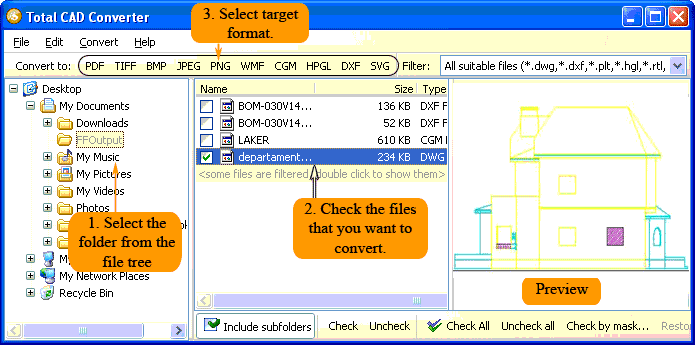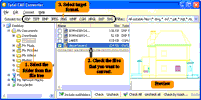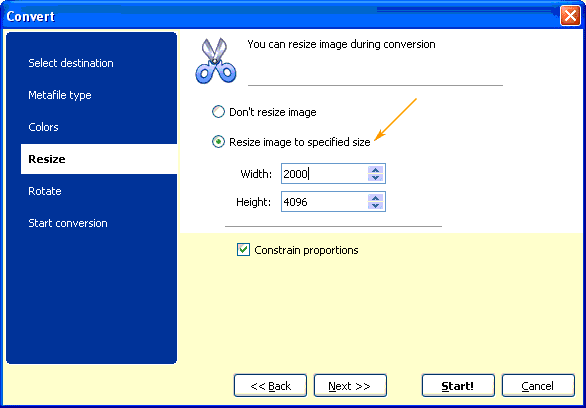 Interface languages: English, Spanish, German, French, Russian, Japanese.
Windows Vista/7/8/10/11
Total CAD Converter is a versatile and user friendly software tool intended for converting CAD files to PDF, TIFF, BMP, JPEG, DXF, WMF, and PNG. With the converter close at hand, you can convert SVG to PDF with just one click of a button.
What is SVG?
SVG (Scalable Vector Graphic) is a XML-based format that describes three types of 2-D graphic files. These include vector graphics, images and texts. They can be grouped, modified and transformed by aid of clipping paths, template objects, etc. There are several versions of the format, and some of them are tailored for mobile phones and PDAs, many of which have the SVG player code. Because browser support for SVG is unstable, SVG files are best saved in other popular formats, including PDF.
Benefits
Total CAD Converter is available online. You can either purchase the registered version and receive all the upgrades and technical support for free, or download a free trial version that is valid for 30 days. Use it as a demo version and learn the basics of handling Total CAD Converter.

The truth is that you do not need any special training to develop a knack for file conversion. Usually, it takes just a few uses of the tool to memorize the basic functions. Actually, you do not have to do even that. It is all written on the interface buttons, and the program wizard will guide you through the entire conversion process.

This SVG to PDF converter has a batch mode, so you can convert SVG PDF in batch. This allows you to manage a hundred of files at once, and it is almost as quick as with just one file. To save SVG as PDF, you should perform just a couple of simple actions. Run the utility and select the folder with files to be converted. A list of SVG files will appear in the middle panel of the interface. Check the files you want to convert and click PDF. Make your settings with the help of the wizard. Then click finish.

With Total CAD converter, you can save several SVG files in one PDF file and adjust file size to your needs. Total CAD Converter can be launched from within other programs via command line. Once installed, it integrates into windows and Convert to option appears in the right-button popup menu. Convert SVG to PDF right from the desktop! Download your copy now.