JPEG2000 is just a version of common JPEG that uses another coding algorithm. If you need to convert JPG files to that specific type, use Total Image Converter. It has a lot of advantages, and with them you will convert JPG images with maximum ease.
You can compress JPEG originals by applying compression. JPEG2000 provides better compression, and you can set it in percentage. This adjustment is available in the wizard of JPG JPEG2000 converter that shows up after you press JPEG2000 button on the top. Besides this parameter, you can also change:

size of source images

rotation angle

background settings
They are optional, and should be used only if you need some specific adjustments. The only required parameter is location for desired JPEG2000 copies. In the Destination tab of the wizard the program offers a default folder. If you need converted files to be saved somewhere else, just select the required folder. When you convert JPG to JPEG2000 in batch, all result files will be located at the same folder:
You can simply edit JPG originals before selecting specific format for conversion. There is a toolbar with major editing options that you can use. Otherwise, change the same settings in conversion wizard. There one more useful feature can be found. You can put a digital watermark on result images, choosing specific position on page. There can be a:

corporate logo

any other image

text comment

image frame (one of 9 preset variants)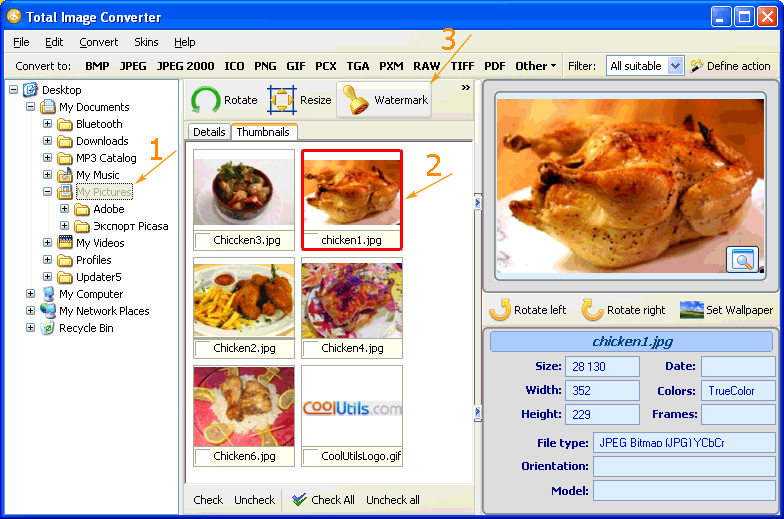 Graphic and text watermarks are adjustable, you can style them as you wish. Watermarked images will not be used illegally, as their ownership will be secured. Setting watermark template once, you can stamp all images, as this is a batch image converter.
It is easy to find out whether Total Image Converter fits your needs. It is available in a demo version that shows all functionality for free.