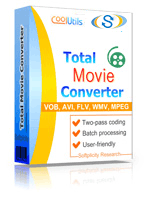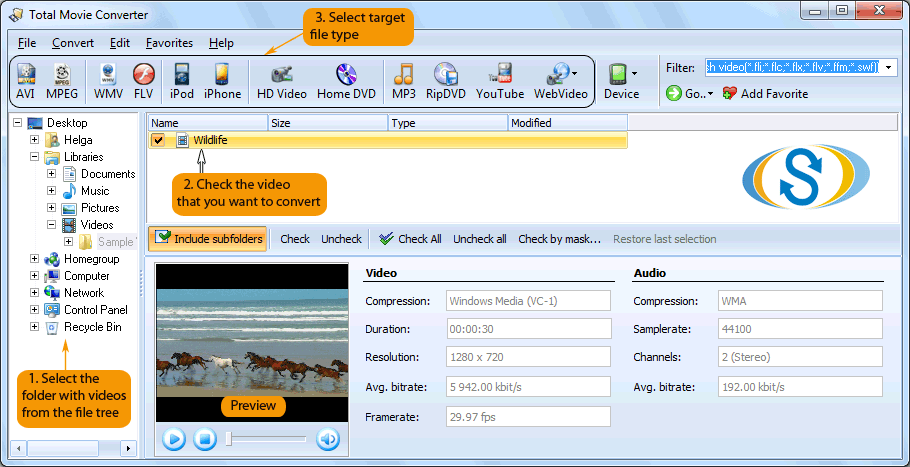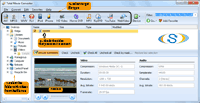 Windows Vista/7/8/10/11
Xvid is a free alternative and the main competitor of DivX video codec library. It is used for encoding different video formats, compressing it in size with the help of MPEG-4 ASP video technology. It is widely used for compressing video files for recording them on CD or DVD disks. Being a free software it uses licensed compression methods. Using it in some countries can be illegal, and some manufacturers do not include its support to the produced devices in order to avoid copyright problems.

However Xvid files can be used in practically unlimited way if to convert Xvid to other formats. For this purpose you can use Total Movie Converter that offers a wide range of video formats for converting Xvid sources. There are more than ten media formats for conversion, including:
Xvid to AVI
Xvid to MPEG
Xvid to MPEG4
Xvid to WMV
Xvid to FLV
Xvid to MP3
Being an advanced video converter, this utility also has an ability to convert Xvid sources specifically for different devices. For instance, if you have Nokia mobile phone with video playback support, but do not know exactly what format and resolution it requires, you can simply click 'Nokia' in target format bar, and the program will choose the required settings by itself. About twenty different devices are supported in Total Movie Converter, including:
iPhone
iPod
iPad
HTC
Blackberry
Nexus
Sony PSP
XBox
The facilities of this Xvid converter allow adjusting video and audio parameters for converted files, making sources even more suitable to your purposes. Depending on the format you select for conversion, the settings pack may be different.

Another useful feature of this video converter is ability to process xvid files in batches. If you need to convert many Xvid files, do this within one click. Download your free copy now to see how it works.