PS, or Post Script, is a dynamically typed concatenative programming language mainly used by publishers, corporations, and government agencies. Even though it is quite popular among users, there are significant downsides to this format. The most important of them is limited compatibility – PS files can be viewed only with the help of Adobe Illustrator CS5, Adobe Acrobat X Pro, Adobe Photoshop CS5 and the like, priced at $450-700. Or your office standards may require PDF so you have to convert PS to PDF.
The greatest way to convert PS to PDF in batch is to use batch PS converter. We suggest that you check out Total PDF Converter, a tool specifically designed by CoolUtils for processing of PS files. Total PDF Converter can also encrypt the final PDF files or add a digital signature.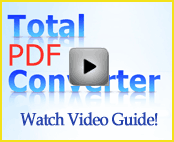 Here's the simple process of Post Script to PDF conversion:
Download Total PDF Converter from CoolUtils website (try the free trial version first)
Install Total PDF Converter (don't forget to choose the language you speak from a long list of supported languages)
Open Total PDF Converter
Select the PS documents you want to process (the list of files is generated automatically)
Set PDF as target format
Click the "Start!" button to begin the conversion process
You'll be happy to know one day that Total PDF Converter is great not only for conversion of PS into DOC, but also for processing of files saved in EPS, PDF and PRN files into HTML, DOC, TXT, XLS, CSV, and TIFF formats.