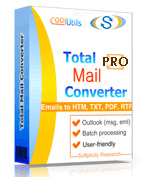 Windows
2000/NT/XP/2003/Vista/7/8
Total Mail Converter Pro converts emails (MSG, EML files) to DOC, TXT, PDF, HTML, HTMLX, TIFF, RTF documents and images (TIFF, JPEG). It is the right solution for everybody wishing to save emails in popular formats. The Pro version converts attachments as well. So, if you have an email with a doc attachment Total Mail Converter Pro can convert both the message and the attachment to PDF in one go.
The unique options of Total Mail Converter Pro include:
Working with several emails, you can convert each email to a separate document or several emails into one file.
Attached files in DOC, TXT, RTF, PDF, HTML, XLS, PPT formats can be converted to DOC, RTF, TXT, HTML, HTMLX, JPEG, TIFF, PDF.
For your convenience Total Mail Converter Pro allows the renaming of output files using macros (name, date, sender, subject, etc.). Attachments can get descriptive names as well.
If your office documents are standardized you will appreciate the option of tuning your output file appearance. You can change the fonts, colors, styles. Alternatively, you can use any external CSS scheme. More..
Total Mail Converter Pro has a powerful engine inside. It easily processes large amounts of MSG/EML files. Download your free evaluation version now to see how good it is.
| | | |
| --- | --- | --- |
| | | |
| | | (only $129.90) |
Screenshots

"The email converter created PDFs from our emails accurately and easily. It's helped tremendously. Thank you!"
List of supported conversions:
Unique options of Total Mail Converter Pro
Total Mail Converter Pro easily converts attached files as well as messages!
If your email has attached images, the program can insert them into the resulting file.
Total Mail Converter Pro can skip the links to images in your emails. Just check "do not access internet for images" option.
Total Mail Converter Pro saves your time and effort by converting only those parts of emails that you need. For example, you can convert only sender + subject fields excluding body, date, subject or recipient fields.
Total Mail Converter Pro can add date, time, counter or any text to the output files. Use this option to watermark your files.
Customer Reviews
Clare Simmons

July 11, 2013
We primarily use Total Mail Converter Pro to archieve emails as TXT files. So far it works all right.
What do you think about this program?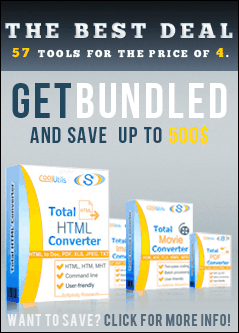 Key Features
Emails to HTM, TXT, PDF, RTF, TIFF
Batch conversion mode
Convert attachments
Can sign target PDF files
MS Office toolbar integration
Command line support
Adds headers and footers