FLAC, which stands for Free Lossless Audio Codec, is an audio compression codec. As it becomes clear, this audio format uses lossless compression technology and is popular among users who value clear sound. Although this format is open and royalty free, it has a very significant downside: FLAC compatibility with portable audio devices is limited.
This is especially the case with Apple devices like iPhones, iPads, iPods and others. If you want to listen to songs initially saved in FLAC on your portable devices, you need to convert FLAC to MP4, as it is the only audio format supported by Apple products. Of course, you can try online tools for FLAC into MP4 conversion, but we suggest that you download Total Audio Converter.
Unlike online applications, Total Audio Converter developed by CoolUtils is guaranteed to be free of spyware and viruses (it is certified by leading websites like Topshareware, Softpedia, Shareup, PopSoftLib and others).

With Total Audio Converter by CoolUtils you will be able to play FLAC files in Apple products in only a few simple steps.
Step #1: Download CoolUtils FLAC MP4 converter and install it
Step #2: Launch the program, choose the FLAC files you need to convert and select them from the tree of folders located in the left column of the program
Step #3: Select MP4 format as target and press "Start" button to begin conversion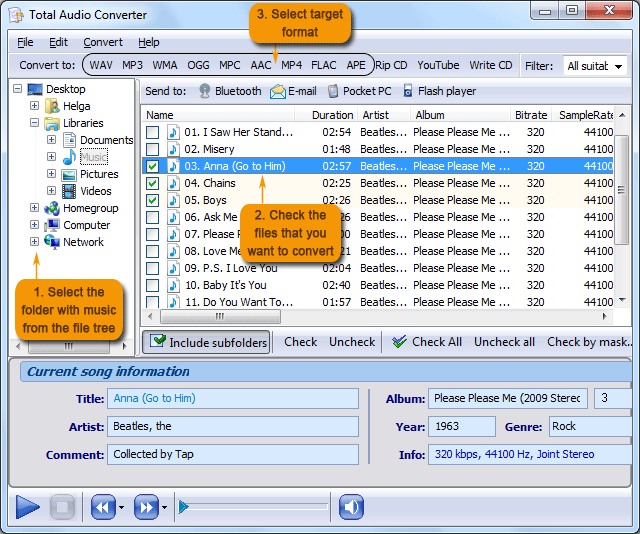 The whole process will take only a few minutes or even seconds depending on the number of processed audio files.
You can use Total Audio Converter to convert FLAC files to formats other than MP4, too. Moreover, you can use other input formats! CoolUtils converter supports MP3, WAV, APE, MPC, MP4, WMA, OGG, CDA, CUE, AAC and AMR that can be converted to WAV, MP3, OGG, WMA, APE, FLAC, MP4, AAC, and MPC.
Download your trial version of Total Audio Converter now and use it for free for 30 days to evaluate the quality of the converter and decide whether you want to buy it or not. There is no obligation or hidden fees!