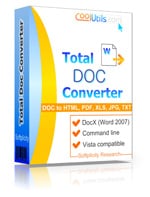 Windows
2000/NT/XP/2003/Vista/7

Interface:
English, German, French, Spanish, Russian, Japanese.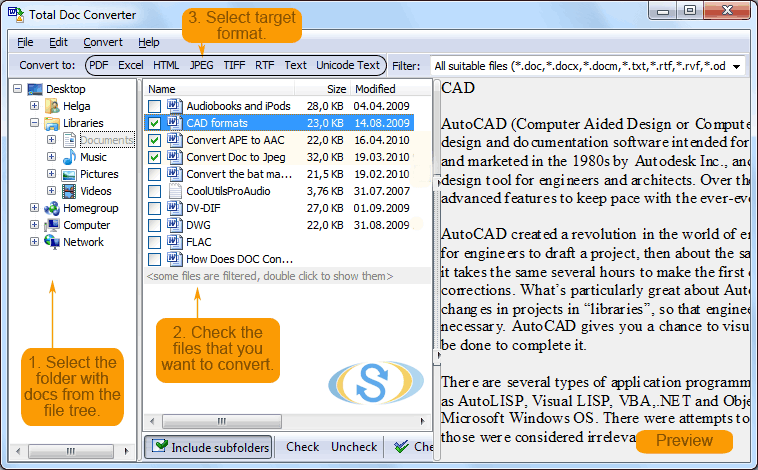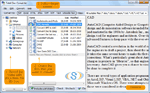 Sometimes text cannot be displayed in various editors or viewers properly: some characters are not shown at all or some are shown as a strange set of symbols. To avoid this you can convert TXT to unicode text, a universal standard of coding characters supported by all popular programs. Unicode texts will be displayed properly without any problems. To do this you will need Doc Converter that features ability to export TXT files to Unicode.

The in-built Unicode text converter supports various source formats, among which are:
DOC to Text
DOCX to Text
DOCM to Text
RVF to Text
This makes Total Doc Converter a universal solution for exporting text to Unicode format. As for converting TXT files, this doesn't require any additional settings except destination – the folder where converted files will be located. This Doc converter supports multi-conversion, when a few source files are converted at a time.
Mention that converted files will also have a .txt extension and have the same name as sources + converted. For instance if the source file is file.txt, the converted one will be named file (converted).txt. When converting one single file, user can change the name for what he needs. In batch conversion the names are not changed.
Total Doc Converter also works from the command line. You can use your standard Windows 'Run...' function from the main menu to convert files in the same way as via program user interface. The command that will convert file.txt to Unicode version looks like the following:
DocConverter.exe C:\DOC\file.doc C:\DOC\ -cUnicode
This means that the file from DOC folder on Disk C will be converted to the same folder into Unicode encoded file.
You can try Total Doc Converter before buying a licence by downloading it in trial. You will be given with 30 days of free use.