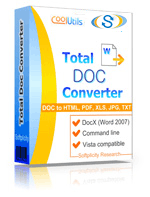 Download
Windows Vista/7/8/10/11
Interface languages: English, Spanish, German, French, Russian, Dutch, Swedish, Italian, Portuguese, Czech, Japanese, Chinese, Korean.
A lot of needs are solved by converting Word to HTML. If you are not keen to web programming but need to optimize your documents for publishing online, use Total DOC Converter to turn your Word files to ready-to-use HTML pages. You can convert files one by one, or process the whole file folders if there is a big amount of sources.

Regardless of what data type (plain text, images, tables) your Word originals contain, all information will be correctly transferred to HTML code with formatted saved unchanged. If needed, you can change font size and type in order to make new HTML pages suitable to your website style. By exporting files from Word into HTML, you get the ability:
To publish documents online
to make them viewable via web-browser
to store it locally as a back-up
to share documents with those who have no DOC supported applications
to insert entire Word documents or their fragments to ready-made website pages.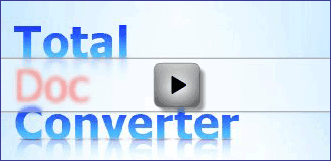 In order to convert Word to HTML with the help of Total DOC Converter, all you need to do is to select sources, choose 'HTML' format for conversion and press 'Start!'. These three clicks are much more efficient way to export files from DOC to HTML instead of manual coding. Total DOC Converter has intuitive user interface that helps user to make conversions easily. Each step of conversion is automatically followed by the next one that is why it takes seconds to do the entire job with the files.
Thanks to batch conversion it is possible to process all required files in one conversion. Total DOC Converter also converts Word from the command line. Within a single command you can convert to HTML any amount of DOC originals. Total DOC Converter is a must-be utility for such tasks as converting DOC files to HTML. Try it now and ensure in this!