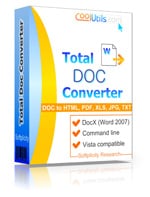 Windows
2000/NT/2003/Vista/7/8/10/11

Interface:
English, German, French, Dutch, Spanish, Russian, Japanese.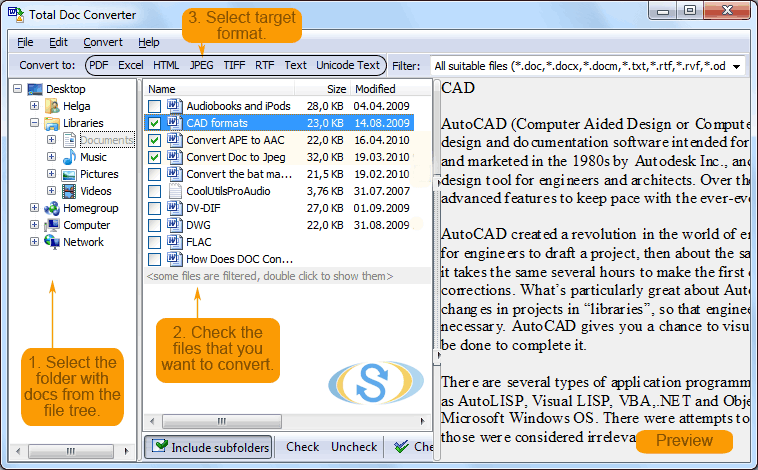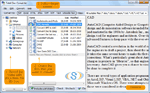 Have you ever tried to open a file and realized you couldn't because it had been saved as a DocX? If so, you're not alone. In 2007 Microsoft changed the default format of Open Office XML Word documents to DocX. Outside of Open Office, there aren't many programs that are capable of opening a DocX file. As a result it often becomes necessary to convert DocX files to a different format. With the Total Doc Converter you'll soon discover that unreadable formats are a problem of the past!

Our converter is able to transform DocX files into a variety of more accessible formats; such as PDF for example. With the help of the Total Doc Converter you can convert DocX to PDF in a few easy steps. No more worrying whether your recipient will be able to open your document or not. When you convert DocX to PDF it instantly becomes available to every device because of the universally friendly nature of the PDF format.

Our converter is built to accommodate both advanced and beginning users. From small single file jobs created through our user-friendly GUI, to large multi-document projects queued up through the command line, we've got you covered. You see, with our batch DocX converter you can automate the processing of large jobs, or choose to save DocX as PDF in single file format. Whatever your projects require our converter can help!
Worried about losing data or maintaining quality during the conversion process? Don't be. The Total Doc Converter preserves document properties with 100% accuracy. Your information is safe with us. Not only that, our developers have included a bunch of cool options to help you get the most out of your document conversions.
Combine all source DOC files into a single target PDF.
Preserve original document properties (i.e. author, subject, title, etc).
Encrypt the final PDF to protect it from being copied or modified.
Add in a digital signature.
Give us a try today with our free trail download. See the difference our conversion software can make in your work flow. With support for more than a dozen different languages and continuous upgrades, we have something for everyone. With additional support for converting DocX to HTML, XLS, JPEG, TIFF, TXT and more… we think you'll agree that this is one awesome utility!
How to Convert a DocX Document to PDF
The program has a unique and simple user interface, so it does not take connoisseurship to master it. In order to make a DocX document to PDF, you should run the following procedure.

Start the program and select the DOCX files from your file tree. Then press Convert to PDF button from the main menu. Then choose the conversion method, which suits you. Specify your target file name. Please, set document properties to your liking. When you have performed the described actions, click the Start button.

This DocX converter also allows for whole-folder DocX-to-PDF conversion. If, for example, you would like to convert the entire batch of docs contained in the folder d:\My Documents\, please, select Mark by Mask option. Add the * asterisk to the original file path (it should look this way: *.DocX). All the documents with docx extension will be displayed in the main window.

Total Doc Converter is a very powerful yet affordable program. Get your copy now to easily convert DOCX to PDF.