The need to convert DocX to XLS may occur for solving different problems. For instance, if you have tables saved in DocX, and have no Microsoft Word 2007 or higher to open it, you can simply export DocX to XLS. For this you will need Word 2007 converter that supports XLS as target format. Moreover, turning DocX tables to XLS will make them suitable for calculations and other data processing features that are available in MS Excel but not in MS Word. Converting many files can become a one-minute task, if doing this in Total Doc Converter that ideally suits your needs.
This converter offers to convert DocX to XLS in batch, helping you to manage with all files in a few seconds. Just put all files that need to be converted into one batch, and convert them all by one single click. This is much more convenient than doing this manually via MS Word and 'Save as' option, each file separately.

The procedure of using DocX XLS converter is similar with any other program's conversion modes. You will need to:
On the left side folder tree click on the folder that stores your source files with the left mouse button;
In the content list checkmark all required sources for conversion;
Press 'Excel' button in the top bar;
Choose destination for the future XLS files, specify required font style and size (if needed);
Click on Start! Button.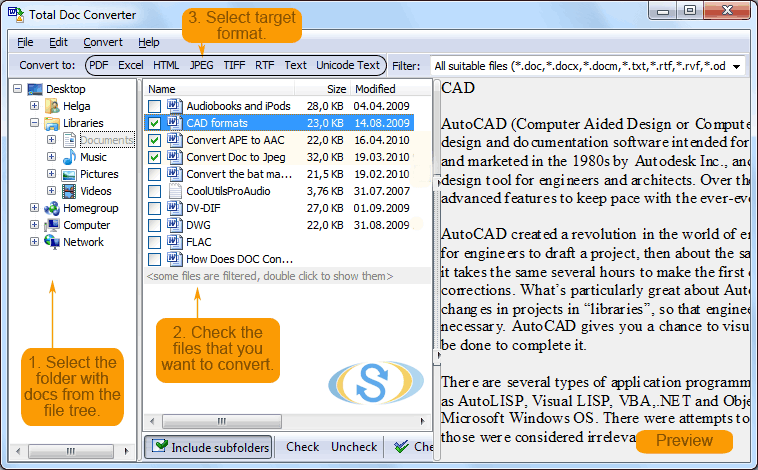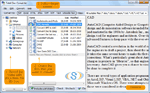 All in all the process will take about a minute. If to skip settings, source files will be converted with the same formatting, each source do separate XLS file. If you convert the whole file folders in batch, you can save the folder structure. If needed, you can use convert DocX to XLS command line option, that will convert files in background mode.
Total Doc Converter can become yours right now, in either free 30 days trial or licensed version. Download it from here.