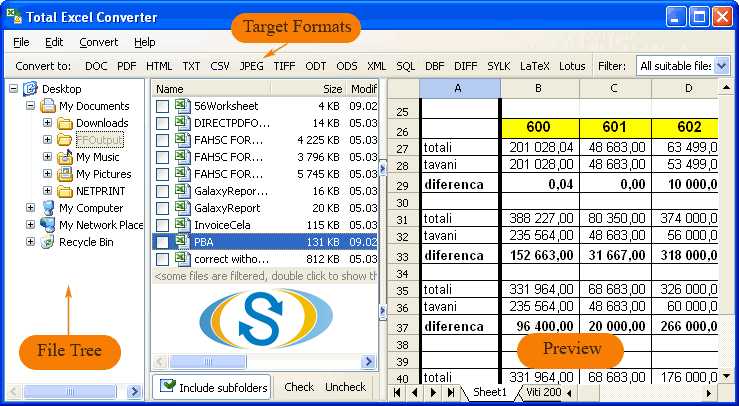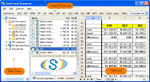 Windows Vista/7/8/10/11
Interface languages: English, Spanish, German, French, Russian, Dutch, Swedish, Italian, Portuguese, Czech, Japanese, Chinese, Korean
If you are an advanced computer user, then most likely you are able to tell the difference between XLS and XLSX formats. However, if you are not, you will be happy to learn what is so special about the two of them and why XLSX is preferred by most users.
XLS and XLSX are both spreadsheets formats used by Microsoft Office Excel. XLS files store data in a table with rows and columns; table cells may contain manually entered data or the results computed from the data of other cells. This format is also preferred by many to create charts and graphs. XLSX has all the same features, only it is used by Excel 2007 and later versions of the program. Also, XLSX format has some features that are not available in XLS, since this is an upgraded version of the widespread spreadsheet format.
If you want to convert XLS to XLSX, you can simply open the XLS file in Excel 2007 or later version and choose "XLSX" in the "Save as…" menu. However, if you are using a version of Microsoft Office Excel that is earlier than 2007, you will need a special Excel XLSX converter.

We suggest you try Total Excel Converter developed by CoolUtils. With its help, you will be able to not only convert XLS files into XLSX, but also to perform many other actions:
convert other spreadsheet formats ODT, ODS, XML, SQL, WK2, WKS, DBF, TEX, and DIF into DOC, DOCX, PDF, HTML, Access, TXT, ODT, ODS, XML, SQL, CSV, Lotus, DBF, TEX, DIFF, SYLK, and LaTeX
convert Excel to XLSX in batch
add digital signatures to documents
preview spreadsheets
combine several spreadsheets into one documents and much more!
All you need to do to convert Excel to XLSX, is:
download Total Excel Converter from here
install Total Excel Converter following the setup guide instruction
open the program and select XLS files for conversion
set XLSX as target format
click "Start!" and enjoy automatic processing of files
Click here to get your free trial version of Total Excel Converter now!