BMP format is rather limited in editing and graphic adjustments. It is not suitable to the most of design projects, and users often have to convert BMP images to other formats. Total Image Converter features more than 15 formats for conversion, including BMP to RAW. This mode allows turning BMP raster image to raw graphic data that can be further adapted for any needs. With Total Image Converter you will do this quickly, even not having special skills.
This batch image converter has a basic graphic editor that allows preparing images for conversion right inside. It can:

automatically adjust pictures for a new size that you set in pixels

rotate image to any direction

crop some fragment for conversion to RAW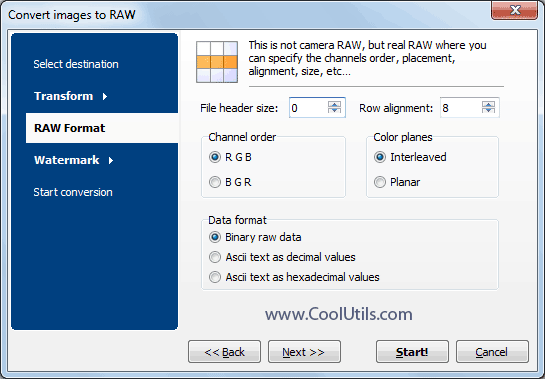 You can take BMP originals as they are and modify them inside Total Image Converter. It saves much time and makes it easy to make graphic modifications without design skills. You will need a couple of minutes to manage all conversions, as the program provides ability to convert BMP to RAW in batch. Put all original images into one folder and convert them all at once. Besides standard settings like transformations with size, positioning, watermark protection, RAW format has specific properties that are:

row alignment

file header size

color channel order

color planes

data format.
The data format can be binary, ascii with decimal values or ascii with hexadecimal values. All these settings are available in 'RAW format' tab in settings wizard of RAW converter. It appears after you specify BMP source files and click on RAW icon in the top format bar. When you convert a few images, the parameters you set in the wizard will be used for all files. No matter if they are different in size, colors or other properties. In the result RAW copy will have unite formatting, adjusted in conversion wizard.
Test export to RAW format for free during 30 days, get trial version here!