TIFF provides wider facilities for graphic designs than BMP. That is why sometimes users need to convert BMP to TIFF. A comfortable and easy way to convert BMP images is provided by Total Image Converter. It works perfectly for graphics of any quality, helps to improve image properties and convert lots of images very quickly.
Besides conversion, you can simply edit BMP images inside the program. When you open it, you will see an image catalogue in the middle of the window. There are resizing, cropping, rotating and other options are available. You can simply change size, rotate or crop, and the program will save the changes in the same format. Also this batch image converter features a file viewer, where you can check the results or just review the images, when selecting sources. Remember that using Total Image Converter you do not need to process every BMP file separately, repeating settings for each. It can convert BMP to TIFF in batch, i.e. all files together. You make settings only once, and they are applied for all selected source files. Source images are specified by checking them off from the image list inside the program. You can also use 'Select All' option, if you wish to convert all images from the current folder.
TIFF settings include the following:

TIFF compression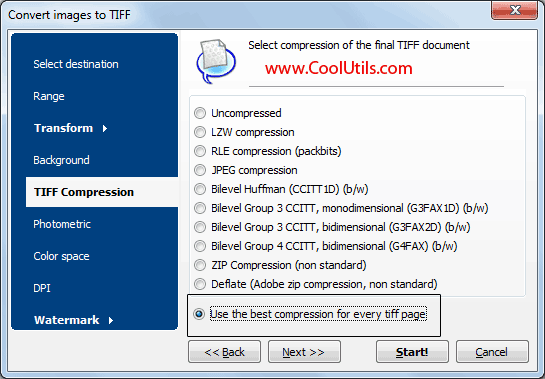 Background and transparency

Size and orientation transformations

Photometric interpretation

Watermarks (logo/text/frame)

DPI (vertical and horizontal)
By applying your own settings you can make TIFF copies smaller in memory size with minimal quality loss. This is how TIFF converter takes care about making result files comfortable in further use.
You can experiment with settings for free, as Total Image Converter is available in a trial version. Get 30 days of free use right now!