| | | |
| --- | --- | --- |
| Convert JPEG to PNG in Batch With Comfort | | (only $24.90) |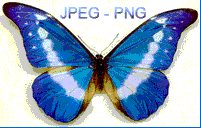 Total Image Converter is the fastest and most versatile file conversion program today's software industry can offer. With the help of this utility, you can
convert JPEG files to many other formats
, including those using lossless data compression. Particularly,
Total Image Converter converts JPEG to PNG
, a portable, yet lossless compression file format. PNG is a licence-free bitmap extension that provides greyscale and colored image characteristics, sample depth ranging from 1 to 16 bits per component.
Total Image Converter supports many other formats too. Indeed, it deals with nearly all image formats known today. This is an all-in-one conversion tool, and it is an irreplaceable tool for people employed in web designer projects. It does not take any professional knowledge to handle Total Image Converter. This tool is as great for beginners as it is for qualified specialists. The most wonderful thing about Total Image Converter is that it saves you most of the work. There are very few manual actions required on your side. It does all the job automatically, and all you need to do is follow the Wizard's instructions and select your desired features.

Most User-friendly JPEG PNG Converter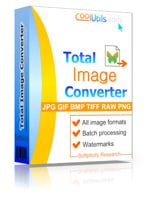 If you have a lot of JPEG images to convert to PNG, there is hardly a better JPEG PNG Converter in the whole world than Total Image Converter. Is there another conversion tool that converts files in batches so fast? By aid of Total Image Converter, you can render hundreds of files in your desired format in a matter of seconds.
Total Image Converter has a number of options that will make your daily work into a pleasure ride. You can crop, rotate and resize your files and use the built-in viewer to estimate the quality of your files. By aid of the viewer, you can estimate the quality of your PNG files.
Total Image Conveter integrates into the right-click popup menu, enabling you to manage files right from the desktop. If you have to convert JPEG to PNG from within other programs, use the command line option.
Total Image Converter is as user friendly and convenient as it is cheap. Considering the number of benefits it has, it is worth nothing! Once you have bought Total Image Converter, you get all necessary tech support and upgrades on a regualar basis. If you would like to make friends with the program first, download the 30-day trial version and try your hand at it!
Related topics
How to convert JPEG to TIFF in batches?
Convert files from RAW to JPEG
Convert JPEG files to PDF with comfort
Convert PSD files to PDF without any problems