How to Convert EML to DOC
Corporate correspondence must be backed up and protected against data loss. As a standard solution, emails should be stored safely in a format compatible with common office applications. One of these options is DOC, which transforms EML into a format recognized by Microsoft Word. When employees resign and their profiles are deleted, emails saved as DOC remain.
Total Mail Converter is exactly the tool you need to convert EML files to DOC files professionally:
It can transform emails to DOC files within a couple of clicks. All you need to do is select the emails and set the destination for the future DOC copies.
You select what to do with attachments: extract them into a separate folder, include attached images into the final document or convert attachments into DOC files as well.
You select the fields to convert: subject, body, sender, etc.
Total Mail Converter works with any number of EML files at the same time. This means that you can select a thousand emails and process them in one go. Naturally, it's a time saver.
The program can add page numbers, dates or any text to DOC files during conversion.
Easy interface with lots of hints makes the program suitable for any user, regardless of computer skills.
Total Mail Converter is an all-in-one tool and a great time saver. Turn your files into separate or unified documents. Keep the default settings or customize the output — the choice is yours!
Save EML to Word Doc by CoolUtils Software
Step 1. Find EML files
Choose the folder with your emails in the tree menu (left panel).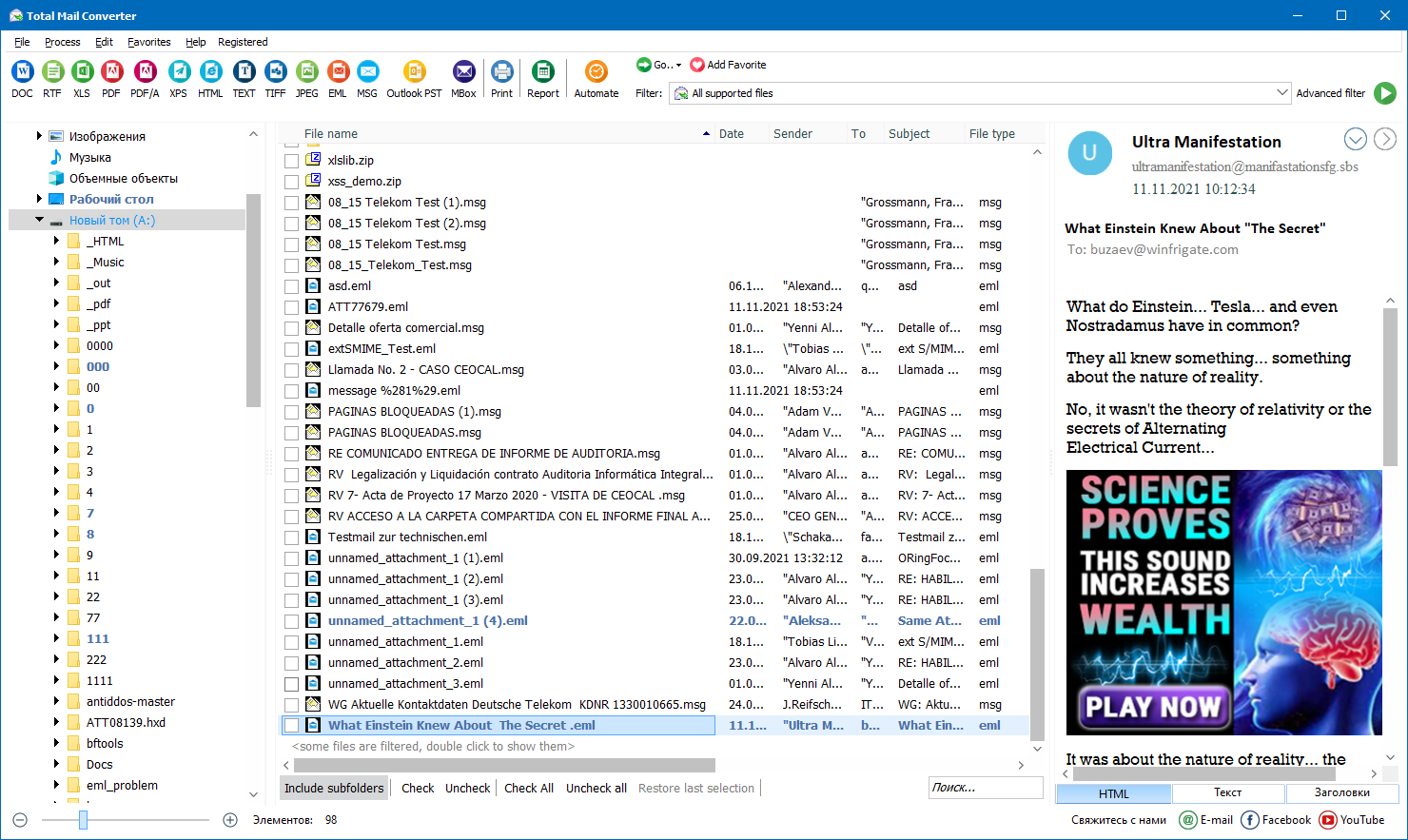 Step 2. Select the files
Click on one of the emails to preview it. Then, check the boxes next to individual messages or click the "Check All" button to convert the entire folder.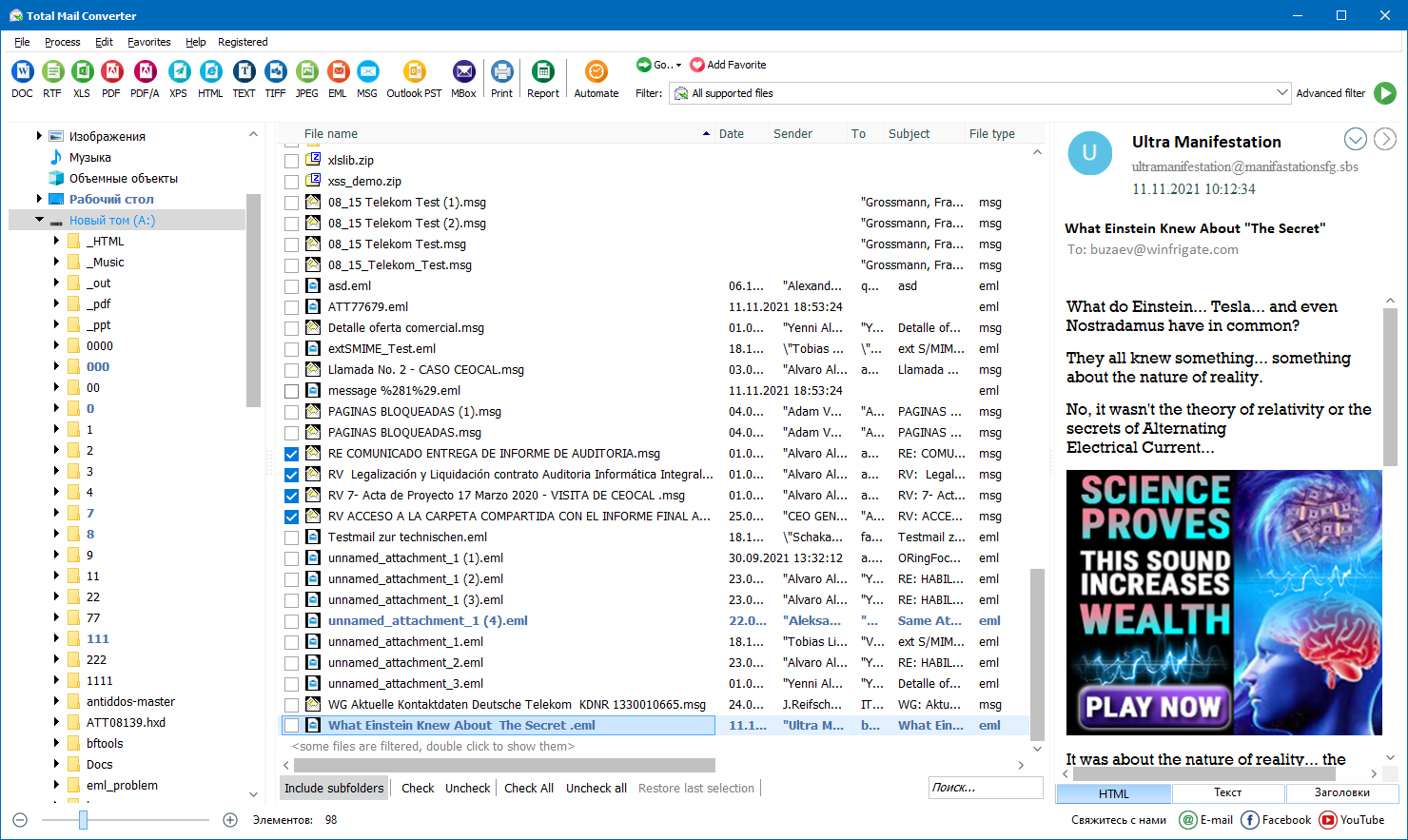 Step 3. Adjust Settings
Click on the DOC button at the top. The Mail Converter wizard will pop up. This lets you convert EML to DOC with customized or default settings:
Change the destination
Save multiple emails into one or separate documents
Create a table of contents
Filter emails in a variety of ways
Use an internal scheme or CSS file
Select page size, orientation, margins, and more!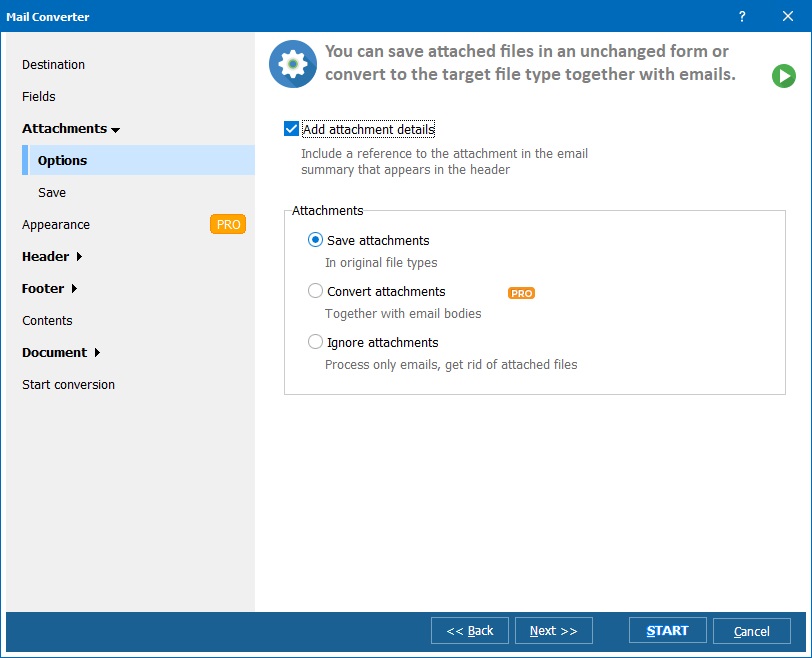 Step 4. Launch
Click on the START button in the wizard to save mail as a Word file. Upon completion, the DOC copies will appear in the specified location. View or save the log if necessary.
Advantages of Our Tool
Convert EML and MSG to DOC and other formats: EML, HTML, MSG, PDF, PDF/A, PST, TIFF, TXT, XHTML, XLS and XPS
Manage attachments (include a reference, save, ignore or convert to DOC, PDF, TIFF, JPEG, HTML, or TXT via the Pro version)
Process hundreds of files in a batch
Create unified or separate documents
Filter emails by keywords, date, or attachments
Select mail fields for conversion (e.g., Sender or Body)
Convert EML files to Word DOC and other formats using the graphic interface, the command line, or the server version.
Reasons for Conversion
EML files contain individual emails — specifically, the sender and recipients, body, headers, attachments, and other components. You can open EML using mail clients like MS Outlook, Apple Mail, or Thunderbird, so its use is very limited.
In comparison, DOC is a fixture of office life. Companies in all industries use DOC files for their daily tasks, from curriculums to invitations.
Conversion to DOC makes sending and managing data easier. Common reasons to convert EML to Word document include:
Making emails easier to share, as DOC is universally accepted
Combining hundreds of emails into one document
Creating a table of contents
Preparing files for eDiscovery
Creating a backup
Archiving
The CoolUtils tool provides fast and highly customized conversion with guaranteed accuracy. You will have peace of mind knowing that all of the emails and attachments will be transformed safely.
Conclusions
Total Mail Converter will turn any number of EML files into highly customizable documents. The DOC format allows easy sharing and management of information without mail clients. You are just a few clicks away from an impeccable result. This is the ultimate solution for batch conversion on Windows.
Download the trial version to see our tool in action. Convert EML to Document and 10+ other formats for free for 30 days! Transform hundreds or thousands of emails with or without attachments, play around with layout settings, and more!