The EML format saves individual messages with attachments. It is used by most mail clients, so you can open these files via MS Outlook, the outdated Outlook Express, or non-Microsoft apps like Thunderbird. An EML item includes the body of a message, the sender and recipients, date, and time. So, why convert EML to HTML?
Despite its versatility, EML complicates sharing and archiving. If you have thousands of emails, you have thousands of files! What's more, your recipient must have a compatible mail client to open them. This makes conversion to HTML very popular. This format is recognized by a plethora of programs on any OS.
Total Mail Converter will turn any number of emails into HTML files quickly. Conversion is almost effortless — just select the files, adjust the settings and click Start! Even hundreds or thousands of emails can be processed with guaranteed speed and precision. Our tool is lightweight but incredibly powerful!
Convert EML to HTML by CoolUtils Converter
Step 1. Find EML files
Click on the folder with your EML files in the folder tree (the left panel). You can view its contents in the central panel.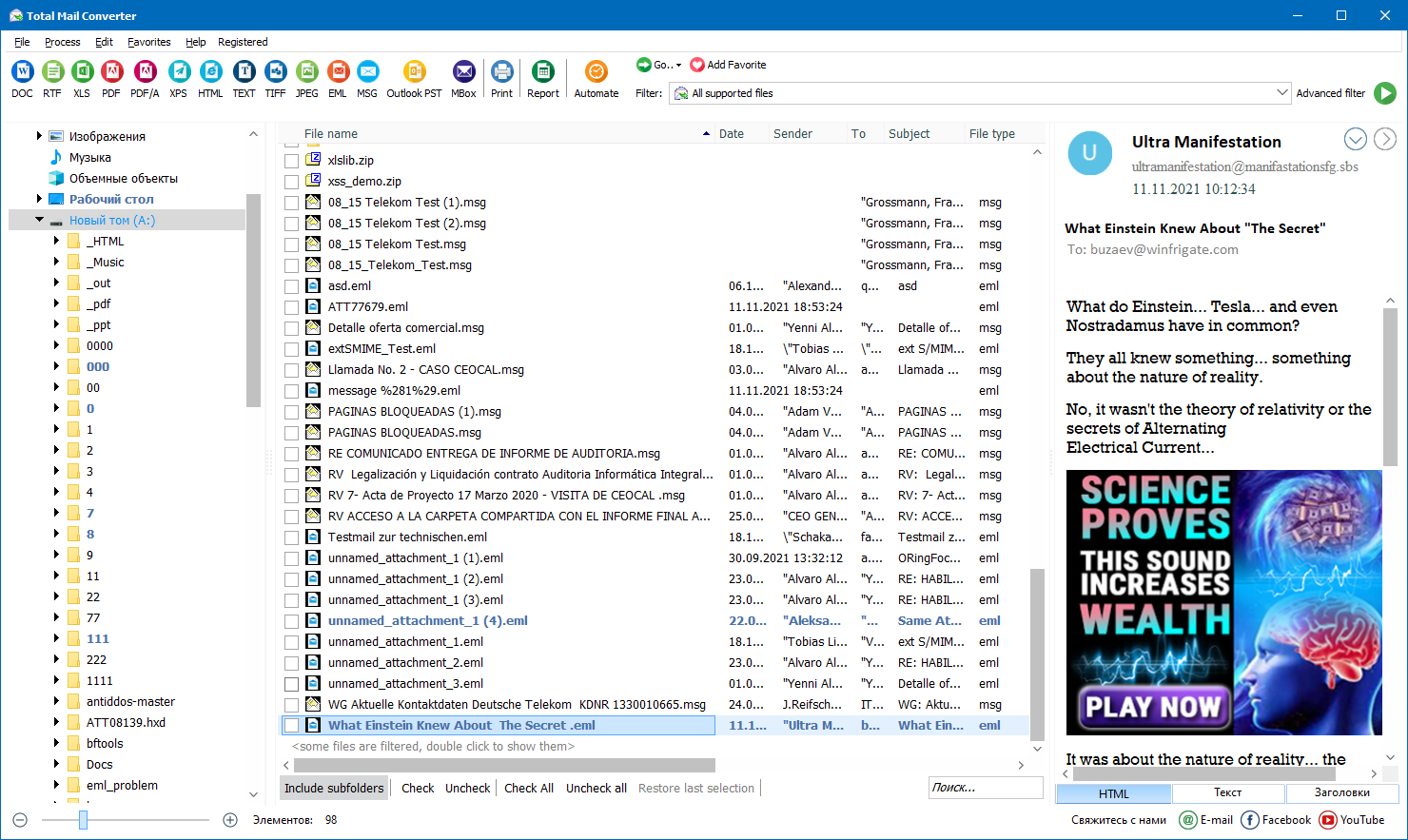 Step 2. Select Files
To preview any *.eml file, click on it. Its contents will appear on the right. You can process the entire folder by choosing "Check All" or check the boxes for individual emails. The system can also convert EML to HTML with subfolders if necessary.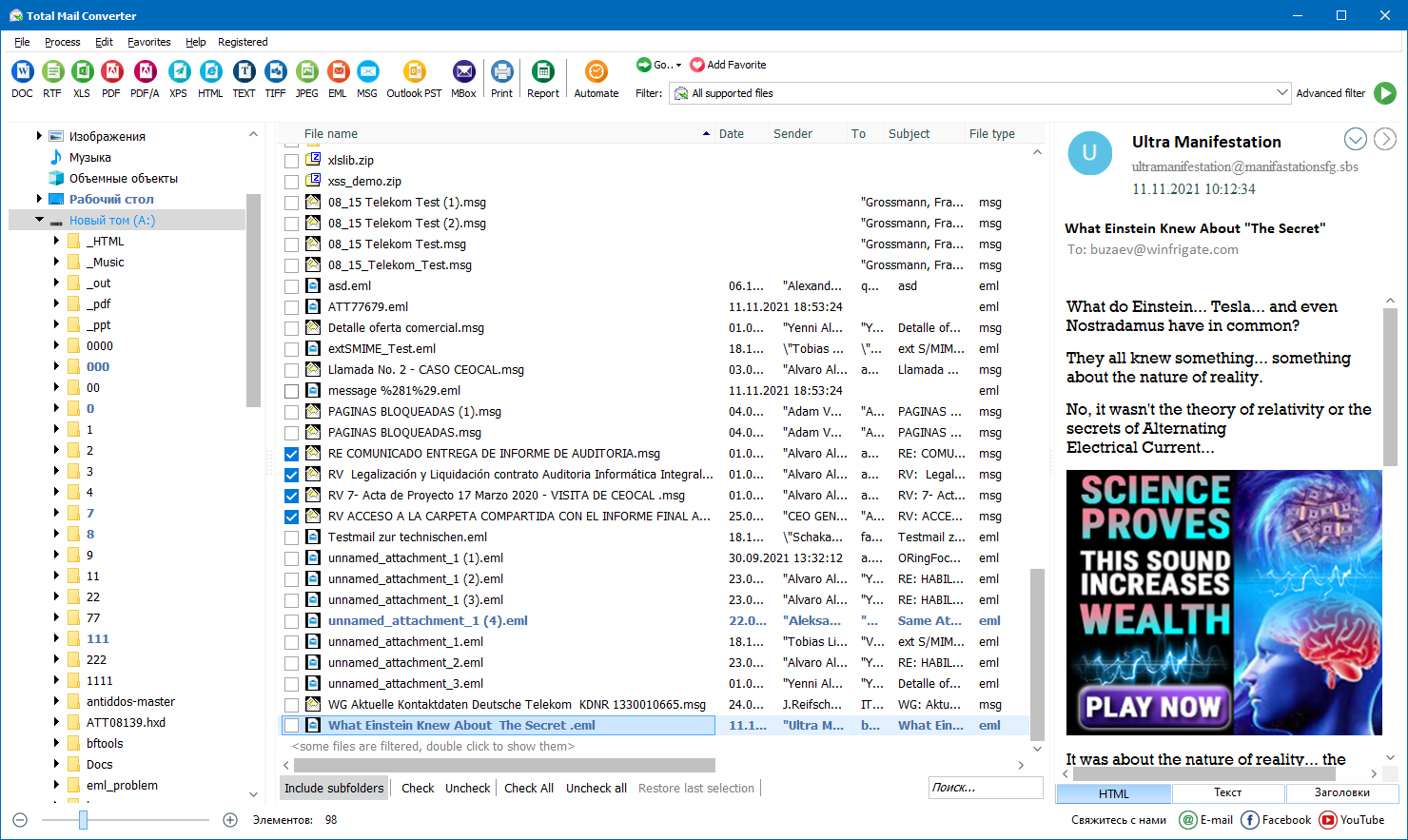 Step 3. Select Settings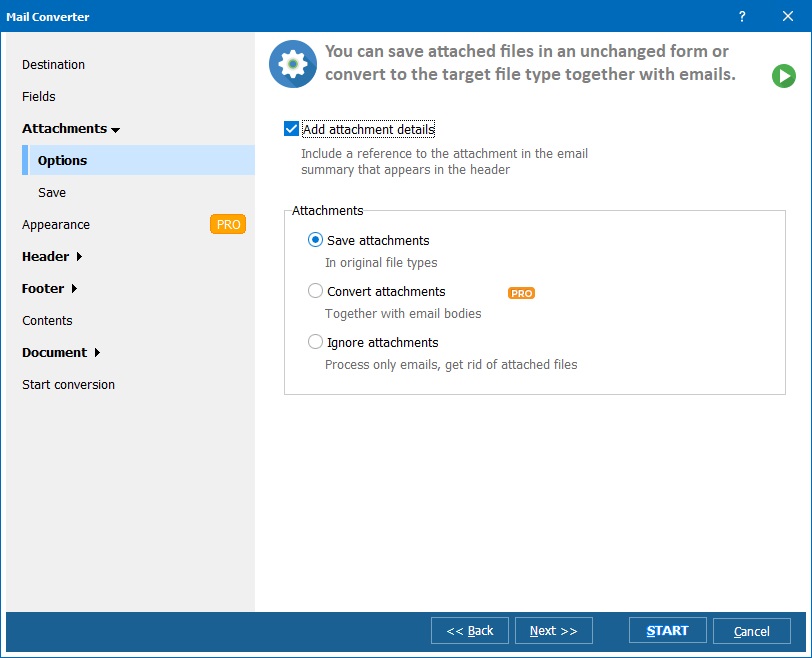 Click on the HTML button at the top of the screen. This will open the Total Mail Converter wizard. Keep the default settings or customize the task:
Change the destination
Keep folder structure or copy the original timestamps if necessary
Create a descriptive file name template (e.g., sender - subject - date)
Filter emails by keywords, date, or attachments
Convert select fields (e.g., sender, date & time, and subject)
Save attachments in their original format or convert them in the Pro version
Include built-in images
Change appearance using an internal scheme or CSS file.
Step 4. Launch
Click the START button under the settings to save EML as an HTML file. Upon completion, the file(s) will appear in their destination, and you will be able to save or view the log.
Advantages of our software
All-in-one: convert EML files to Word DOC, PDF, PDF/A, XLS, XPS, HTML, XHTML, TXT, TIFF, EML, MSG and PST
Converting MSG files
Saving or converting attachments to DOC, PDF, TIFF, JPEG, HTML or TXT (Pro version)
Converting hundreds of EML files in a batch
Creating single or separate documents
Filtering emails to fine-tune the selection
Converting all or select mail fields
Converting via the graphic interface, the command line or the server version.
Top 3 Alternative Converters
Stellar Converter
One of the versions of this tool is the EML to HTML converter for Office 365. It shows an enhanced preview of messages, contacts, attachments, and other elements. Administration login allows the export of data from multiple users. The company offers a wide variety of other utilities, such as MBOX converter, OST converter, and Apple Mail converter.
Total Mail Converter Pro
This offline utility has been available since 2006. It converts EML to HTML, Doc, RTF, XLS, PDF, and a range of other formats with guaranteed accuracy. MSG files are also supported. The limited trial version supports 10 launches.
SysTools Mail Converter
Despite the absence of the EML to HTML feature, this tool is still useful. It lets Outlook users create HTML files from PST or OST, rather than individual messages. The system also supports Mbox and EDB as source formats and MSG, PDF, and EML as destinations. If you want to convert emails together with contacts, calendars, or tasks, this software will do the job.
Conclusion
Turning emails into HTML documents makes them easier to share, store and archive. Total Mail Converter makes this process fast and hassle-free. Even hundreds or thousands of files can be transformed with guaranteed precision. All you need to do is select the files, fine-tune conversion parameters if necessary and click «Start!» Use the trial version to convert emails for 30 days free of charge! Our Total Mail Converter is the ultimate solution for your EML and MSG files. Turn them into 10+ other formats in just a few clicks!