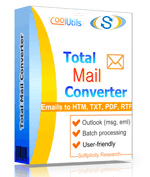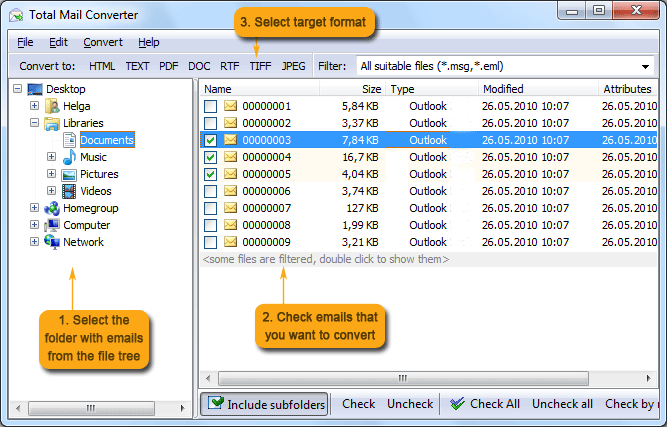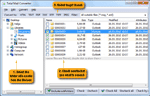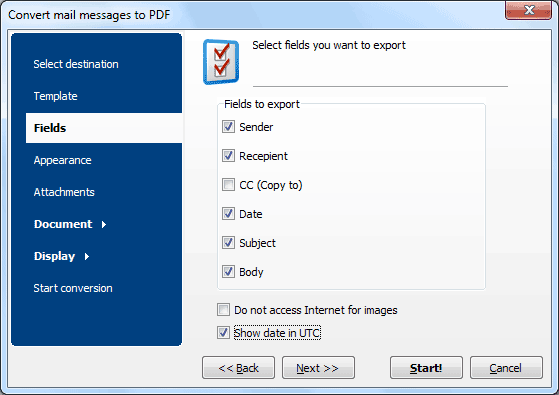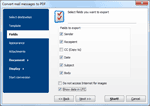 Windows Vista/7/8/10/11
MSG format is used in Outlook Express: this is the format Outlook e-mails are saved in as files. Different e-mail clients use different message formats, and MSG files sent as attachments will be unreadable by those who have no support of this format. This problem is easily solved by converting MSG to EML that is supported by the most of clients used today.

Ability to convert e-mails is extremely important when working with business correspondence or keeping important information in the e-mail history. Total Mail Converter allows easily to turn any number of e-mails from MSG to EML, which may help to extract necessary information. This mail converter is not overloaded by unnecessary features, but offers everything you need:
User friendly navigation menu: you can navigate through your memory file folders, view their content and select necessary source files without any extra windows and menus: everything is displayed right inside the program.
Support of converting emails to EML, HTML, TXT, DOC, PDF, TIFF, JPEG, EXCEL or RTF formats.
Converting in batches: you are welcome to convert all MSG files at once, by one simple command.
Adjustable options: allows to adjust the process of conversion and get converted files ideally suitable for you. In case of converting to EML you are able to set specific destination and file name template.
Conversion from the command line: use command line to convert MSG files with no need to launch Total Mail Converter interface.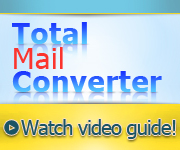 If you do not need to save source MSG files after conversion, Total Mail Converter can delete them automatically if you check the appropriate option in options menu. Regardless of how many files you convert at a time, all of them will have the same parameters you've specified.
If you face the problem of converting MSG to EML format, buy Total Mail Converter as the most functional and time-saving helper in this niche. In fact you will get 9-in-1 converter able to export your emails into 9 document and image formats! Download your free trial copy now.